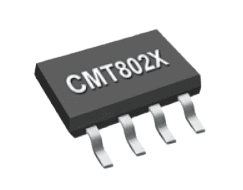 CMT8021N1 - TR-3340-D
SPQ: 100, MOQ:1, Product Package:
Visible Manufacture Name
HopeRF
Visible Manufacturer's code
CMT8021N1
The CMT802X series devices are high-performance, dual-channel digital isolators with as high as 5 kVrms isolation voltage by means of silicon-dioxide (SiO2) insulation barrier. The digital isolator is used to communicate between two different power supply domains while prevents noise currents on a data bus or other circuits from entering the local ground and interfering with or damaging sensitive circuitry. The CMT802X device has 2 forward channels. The default output is high for the CMT802X1 and low for the CMT802X0 device. See the Device Functional Modes section for further details.
Safety-related certifications
DIN VDE V 0884-11: 2017-01

UL 1577 component recognition program

CSA certification according to IEC 60950-1, IEC 62368-1, IEC 61010-1 and IEC 60601-1 end equipment standards

CQC approval per GB4943.1-2011

TUV certification according to EN 60950-1, EN 62368-1 and EN 61010-1
Robust electromagnetic compatibility
System-level ESD, EFT, and surge immunity

±8 kV IEC 61000-4-2 contact discharge protection across isolation barrier

Low emissions

Data rate: DC up to 150 Mbps

Wide supply range: 2.5 to 5.5 V

Operation temperature: -40°C to 125°C
Industrial automatic control

New energy vehicles

Solar inverters

Motor control

Isolated SPI

General purpose multichannel isolation
You may also interested in:-