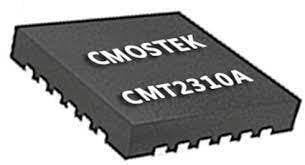 CMT2310A-EQR -TR-3335-D
SPQ: 100, MOQ:1, Product Package:
Visible Manufacture Name
HopeRF
Visible Manufacturer's code
CMT2310A-EQR
The CMT2310A is an ultra-low power, high-performance, OOK / 2 (G)FSK / 4 (G)FSK based RF transceiver, applicable to various applications within the 113 - 960 MHz frequency band. The product is part of the CMOSTEK NextGenRF TM product family which covers a complete product line consisting of transmitters, receivers and transceivers. The high-density integration of CMT2310A simplifies the required BOM in system design. With Tx power reaching +20 dBm and sensitivity reaching -122 dBm, it can achieve optimized performance of application RF links.
Frequency range: 113 – 960 MHz

Modulation/demodulation: OOK, 2 (G)FSK, 4 (G)FSK

Data rate: 0.1 - 1000 kbps

Sensitivity: 2 FSK, -122 dBm DR="2.4" kbps, 433.92 MHz 4 FSK, -88 dBm DR="1" Mbps, 433.92 MHz OOK, -94 dBm DR=" 300" kbps, 433.92 MHz

Adjacent channel rejection : 62 dBc, BW = 4.8 kHz, Channel space = 12.5 kHz

Blocking: 76 dBc , ±1 MHz offset, BW = 4.8 kHz

Operating voltage range: 1.8 - 3.6 V

Tx current: 30 mA @ 13 dBm, 433.92 MHz, FSK 82 mA @ 20 dBm, 433.92 MHz, FSK

Rx current: 9.6 mA (DCDC) @433.92 MHz, FSK

No extra RF switching components required in single antenna mode

Multiple super-low power (SLP) Rx modes available
Automatic meter reading

Home security and building automation

ISM-band data communication

Industrial monitoring and control

Remote control and security system

Remote key entry

Wireless sensor node

Tag reader and writer
You may also interested in:-