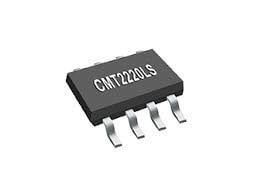 CMT2220LS-ESR - TR-3339-D
SPQ: 100, MOQ:1, Product Package:
The CMT2220LS are new-generation, low-power, high-performance, plug-and-play based OOK RF receiver with no need for register configuration, fitting for wireless receiving applications within 300 - 480 MHz ISM band. The CMT2220LS supports a data rate range of 1 - 5 kbps, ideal for pairing with encoder or MCU based low-cost transmitters. Operating in a supply voltage range of 3.0 - 5.5 V, the chip remains stable receiving performance with no significant performance change in different power supply voltage within this voltage range
.
Frequency range: 300 - 480 MHz

Data rate: 1 - 5 kbps

Sensitivity: -107 dBm (3 kbps), 0.1% BER

Receiver bandwidth: 510 kHz @ 433.92 MHz

Image rejection ratio: 33 dB

Supporting input signal up to 10 dBm

Operating independently with antenna in and data out

Supply voltage: 3.0 – 5.5 V

Low power consumption: 5.3 mA @ 315 MHz

SOP8 packaging

RoHS compliant
CMT2220LS-ESR

Application:-
Home and building automation control

Infrared receiver replacement

Industrial monitoring and control

Wireless meter reading

Wireless lighting control system

Wireless alarm and security system

Access control system with remote control
You may also interested in:-