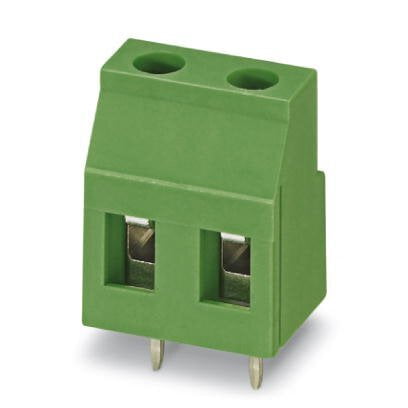 PCB terminal block - GMKDS 3/ 3 - TB-2516-D
PCB terminal block, nominal current: 24 A, rated voltage (III/2): 630 V, nominal cross section: 2.5 mm2, number of potentials: 3, Number of rows: 1, Number of positions per row: 3, product range: GMKDS 3, pitch: 7.5 mm, connection method: Screw connection with tension sleeve, screw head form: L Slotted, mounting: Wave soldering, conductor/PCB connection direction: 0°, color: green, Pin layout: Linear pinning, Solder pin [P]: 5 mm, type of packaging: packed in cardboard. The article can be aligned to create different nos. of positions.
Get the high-quality PCB terminal block - GMKDS 3/ 3 at the best price in India.
PCB terminal block - GMKDS 3/ 3 Product Properties:-
| | |
| --- | --- |
| Type | PC terminal block can be aligned |
| Number of positions | 3 |
| Number of connections | 3 |
| Number of rows | 1 |
| Number of potentials | 3 |
| Pin layout | Linear pinning |
PCB terminal block - GMKDS 3/ 3 Electrical Properties:-
Maximum load current

30 A (with 4 mm² conductor cross section)

Rated voltage (II/2)

1000 V

Rated voltage (III/2)

630 V

Rated surge voltage (II/2)

6 kV

Rated surge voltage (III/2)

6 kV

Rated surge voltage (III/3)

6 kV

Nominal voltage U

N

500 V

Nominal current I

N

24 A

Nominal current I

N

24 A
You may also interested in:-