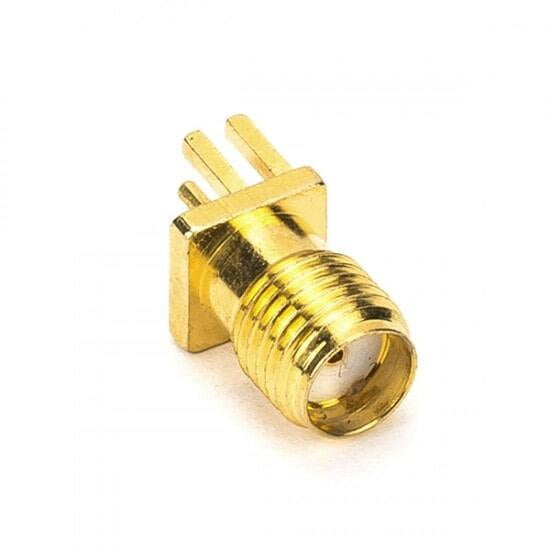 PCB Edge Mountable (1.6mm) SMA Connector Female -CO-795-D
Non-returnable
SPQ:,MOQ:,Product Package:
Visible Manufacture Name
UBINTEX
This SMA Female Straight Edge PCB Mount Connector suitable for use with 1.6 mm thick PCB. Its an SMA Female Connector, and is solderable to the edge of the PCB. It has impedance of 50 Ohms. These connectors are designed to provide compatibility with industry-grade 50 ohm and 75-ohm cables for longer operational life with gold and nickel plating for environmental protections.
Get the high-quality PCB Edge Mountable (1.6mm) SMA Connector Female at the best price in India.
PCB Edge Mountable - SMA-Female RF connector for 1.6mm Thick PCB is perfect for prototyping with the GPS and Cellular devices that require an antenna connection. These connectors have a female signal pin and will correctly mate with the original SMA- Male type antennas.
PCB Edge Mountable (1.6mm) SMA Connector Female Features:-
SMA Connector, Female, Straight, PCB Connector, Plate Edge Mount, Copper, Gold Plating

Excellent electrical performance up to 18GHz with low reflection

Thread type coupling mechanism ensure small loss and high security in compact design
PCB Edge Mountable SMA Connector Female Electrical Characteristics:
Impedance 50 ohm

Frequency Range: 0~6 GHz

VSWR: Straight type 1.3max / R/A type 1.5max

Dielectric Withstanding Voltage: 1000 V rmsmin for RG142, RG405

750 V rms min. for RG316, RG402

500v rms min. for RG178

Working Voltage:500 V rms max. for RG142, RG405

375 V rms max. for RG316, RG402

170 V rms max. for RG178

Center Contact Resistance 6.0 m (Milliohms max.)

Outer Contact Resistance 2.0 m (Milliohms max.)

Insulation Resistance 5 x 10 m (Megohms min.)