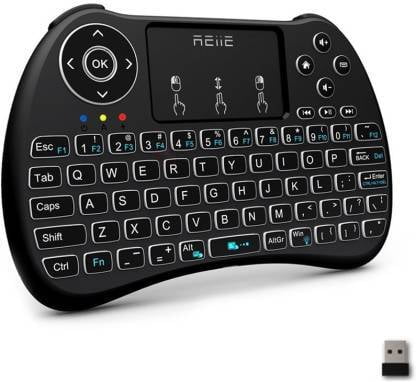 Wireless Keyboard With Touchpad For Raspberry Pi-RA-79-D
Non-returnable
This 2.4G 2.4G Wireless Mini Touch Keyboard is a wonderful combo of Keyboard and mouse with USB dongle for wireless connectivity to Raspberry Pi as well as any device like a smartphone, tablet, PC, Android game console, smartTV or even your Projector.
This is a wonderful combo, 2.4GHz Mini Wireless QWERTY keyboard mouse, TouchPad combo, with USB interface adapter for Raspberry Pi, Cubieboard, Mini PC and others. The Ergonomically handheld design is easy to carry and operate. Build-in removable rechargable Liion battery that has longer standby time. Perfect for PC, Pad, Andriod TV Box, Google TV Box, Xbox360, PS3, HTPC/IPTV, and Raspberry Pi etc.

Get the high-quality Wireless Keyboard With Touchpad For Raspberry Pi at the best price in India.
Wireless Keyboard With Touchpad For Raspberry Pi Features:-
Wireless connection, smart and portable design.

To enjoy multi‐media operation anywhere

Convenient and efficient to use

Large touchpad for handwriting

Compatible with Raspberry Pi

Compatible with Cubieboard

Compatible with Radxa Rock

RGB Backlight Keys

Onboard trackpad with all mouse function

Left+Right click Gaming keys

Operate on inbuilt BL-5B Rechargeable battery

Navigation, Volume Rockers and the Home key

Portable Pocket Size

Plug and Play operation, No drivers needed to install
Wireless Keyboard With Touchpad For Raspberry Pi Specifications:-
Operating range: 15 meters(MAX), without signal disturbance and no direction limit.

Frequency range: 2.403G HZ ~ 2.480GHZ

Operational voltage: 3.3V

Charge Voltage: 4.4V ~ 5.25V

Modulation: GFSK

Channel: 78channels

TX Power: less than +5dBm

Transmission rate: 1M bit/sec

Frequency tolerance: +/‐30ppm

Power consumption: 55mA(on), 1mA(sleep)

Color: White + Black

Battery Type: Built‐in rechargable lithium‐ion battery (3.7v 800mAh)

Integrated with charging circuit

Power saving sleep mode

Dimension: 15x10x2cm (5.90x3.94x0.79")

Weight: 107g
To know more about all latest Products of Raspberry PI along with its Accessories you can visit at
www.campuscomponent.com
You may also interested in:-