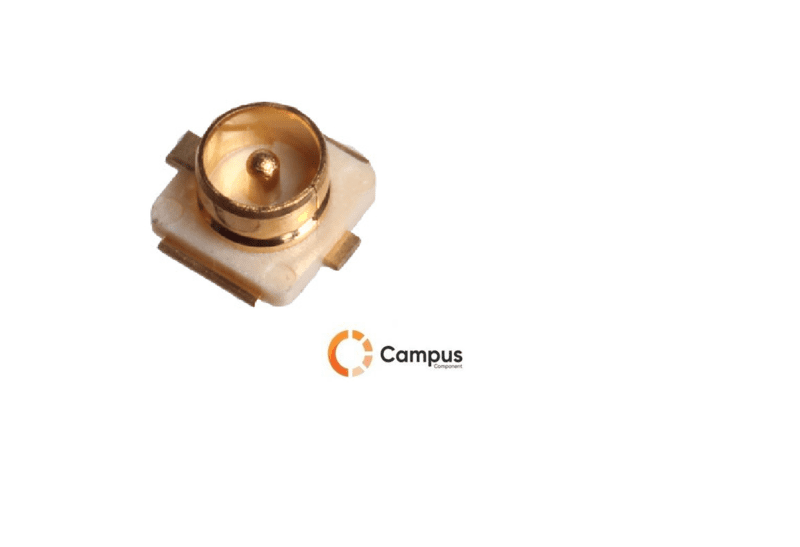 U.FL SMD Connector - AN-1509-D
Visible Manufacture Name
UBINTEX
Visible Manufacturer's code
U.FL SMD CONNECTOR
U.FL SMD Connector Features:-
High performance and broad range of frequency from DC to 6GHz.

Only 2mm mating height maximum. Receptacle size only 0mmx3.0mm. Most suitable for low-profile as well as high density design.

Tape and Reel packaging suitable for SMT and re-flow soldering.

Jig for connector removal can be easily installed.

Applications on such as, mobile phone, cordless phone, GRS, PDA, wireless NB, PCI module, measuring equipment and many more.
U.FL SMD Connector Specifications:-

Rated Voltage 60V rms

Rated Frequency 0-6GHz

Temperature rating -40 to +85℃

Impedance 50Ω

Insulation Resistance 500MΩ

Withstand Voltage 200V rms

Contact Resistance Inner resistance: 20mΩ Max.

Outer resistance: 10mΩ Max.

VSWR: 1.2 max. 0-3GHz

1.3 max. 3-6GHz

Durability: Inner resistance: 25mΩ Max.

Outer resistance: 15mΩMax.

Mini. Packing Quantity 5000pcs per Reel
You may also interested in:-