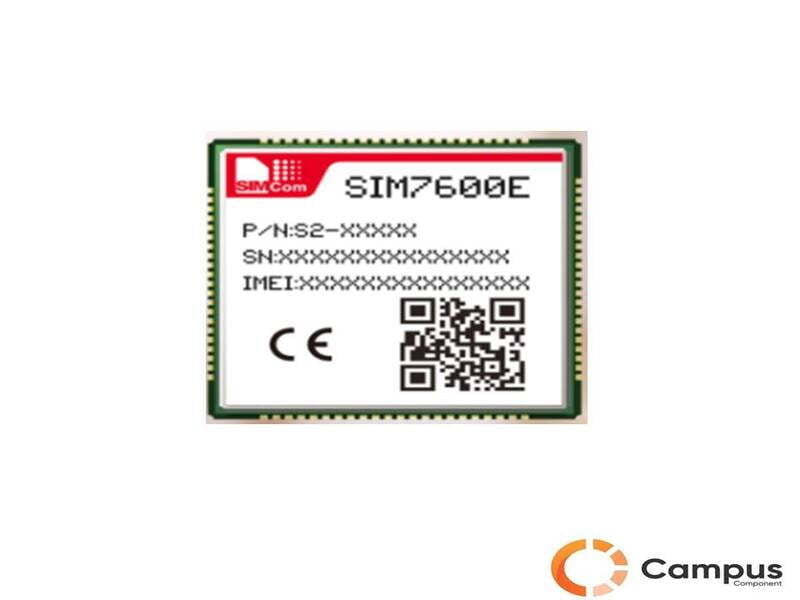 SIMCOM SIM7600E-(4G Module)-WI-244-D
Non-returnable
SIMCom LTE Cat1 module SIM7600E
and LTE Cat4 module SIM7600E-H have recently passed the GCF certification. GCF (Global Certification Forum) is an organization formed by operators and terminal manufacturers; communication products for the European market are required to deliver with GCF certificate, while GCF certification is mandatory for operator warehousing. That is to say, this is a high-level certification for communication products associated with operators in Europe and the United States. Passing the GCF certification demonstrates the SIMCom modules feature outstanding stability and reliability that help customers further open up the European market and expand the scope of market sales.
Get the high-quality SIM7600E
Wireless
Module at the best price in India.
SIM7600E

is LTE Cat1 module with an upstream rate of 5 Mbps and a downstream rate of 10 Mbps. Thus, it's ideal for low-rate applications with stringent requirements for product stability and reliability. SIM7600E-H is LTE Cat4 module with an upstream rate of up to 50 Mbps and a downstream rate of up to 150 Mbps, thus being ideal for applications with certain requirements for module transmission rate.

SIM7600E

is a complete multi-band LTE-FDD/LTE-TDD/HSPA+/UMTS/EDGE/GPRS/GSM module solution in LCC type which supports LTE CAT1up to 10Mbps for downlink and 5Mbps for uplink data transfer. Designed in the compact and unified form factor, SIM7600E is compatible with SIMCom HSPA+ SIM5360 module/LTE CAT3 SIM7100 and LTE CAT4 SIM7600E module, which allows customer to design their application once for different technology and benefit from great development time-saving.
Power supply Single supply voltage : 3.4~4.2V
Power saving Current in sleep mode : <5mA
Transmitting power :
GSM/GPRS power class :
EGSM900: 4 (2W)

DCS1800: 1 (1W)
EDGE power class:
EGSM900: E2 (0.5W)

DCS1800: E1 (0.4W)
UMTS power class:
Data Transmission Throughput :

GPRS multi-slot class 12

EDGE multi-slot class 12

UMTS R99 speed: 384 kbps DL/UL

HSPA+: 5.76 Mbps(UL), 42 Mbps(DL)

TD-HSDPA/HSUPA: 2.2 Mbps(UL), 2.8 Mbps(DL)

LTE CAT 1: 10 Mbps(DL)

LTE CAT 1: 5 Mbps(DL)

LTE CAT 4 :150 Mbps (DL)

LTE CAT 4 :50 Mbps (UL)
Antenna :
GSM/UMTS/LTE main antenna.

UMTS/LTE auxiliary antenna

GNSS antenna
GNSS :
GNSS engine (GPS, GLONASS)
SMS :
MT, MO, CB, Text and PDU mode

SMS storage: USIM card or ME(default)

Transmission of SMS alternatively over CS or PS.
Audio feature:
Support PCM interface

Only support PCM master mode and short frame sync

16-bit linear data formats
You may also interested in:-