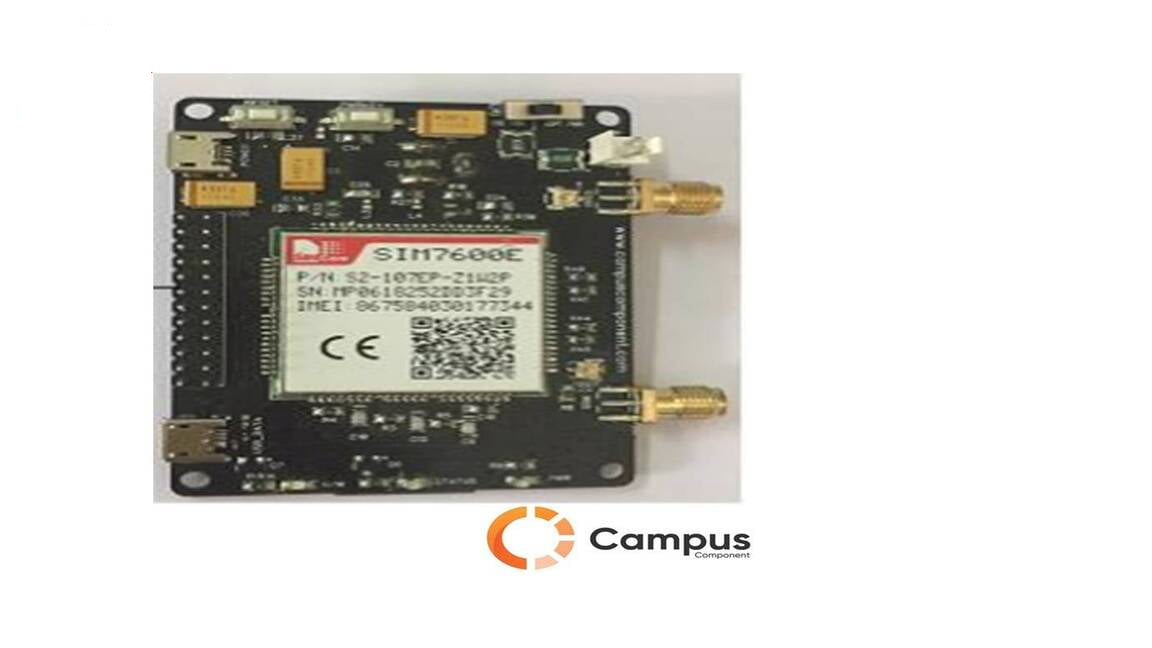 SIM7600E-H Modem-WI-390-D
Non-returnable
The SIM7600E-H is Multi-Band LTE-TDD/LTE-FDD/HSPA+ and GSM/GPRS/EDGE module solution in a SMT type which supports LTE CAT4 up to 150Mbps for downlink data transfer .It has strong extension capability with rich interfaces including UART, USB2.0, I2C, GPIO etc. With abundant application capability like TCP/UDP/FTP/FTPS/HTTP/HTTPS/DNS, the module provides much flexibility and ease of integration for customers application.
Get the high-quality SIM7600E-H Modem at the best price in India.

SIM7600E-H Modem General Features:-

TDD-LTE B38/B40/B41

FDD-LTE B1/B3/B5/B7/B8/B20

WCDMA/HSDPA/HSPA+ B1/B5/B8

GSM/GPRS/EDGE 900/1800 MHz

Control Via AT Commands

Supply voltage range: 3.4V~ 4.2V

Operation temperature: -40 to +85

GNSS gps One Gen 8B;standalone;assisted,XTR
SIM7600E-H Modem Features:-
Power supply Single supply voltage : 3.4~4.2V
Power saving Current in sleep mode : <5mA
Transmitting power :
GSM/GPRS power class:
EGSM900: 4 (2W)

DCS1800: 1 (1W)
EDGE power class:
EGSM900: E2 (0.5W)

DCS1800: E1 (0.4W)
UMTS power class:
Data Transmission Throughput :
GPRS multi-slot class 12

EDGE multi-slot class 12

UMTS R99 speed: 384 kbps DL/UL

HSPA+: 5.76 Mbps (UL), 42 Mbps(DL)

TD-HSDPA/HSUPA: 2.2 Mbps (UL), 2.8 Mbps (DL)

LTE CAT 1: 10 Mbps (DL)

LTE CAT 1: 5 Mbps (DL)

LTE CAT 4 :150 Mbps (DL)

LTE CAT 4 :50 Mbps (UL)
Antenna :
GSM/UMTS/LTE main antenna.

UMTS/LTE auxiliary antenna

GNSS antenna
SMS :
MT, MO, CB, Text and PDU mode

SMS storage: USIM card or ME (default)

Transmission of SMS alternatively over CS or PS.
You may also interested in :-