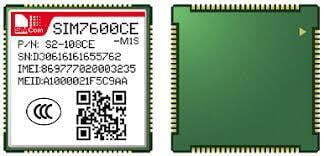 SIMCOM SIM7600CE-WI-1489-D
The SIM7600 series is the LTE Cat 1 module which supports wireless communication modes of LTE-TDD/ LTE-FDD/HSPA+/GSM/GPRS/EDGE etc. It supports maximum 10Mbps downlink rate and 5Mbps uplink rate.
The SIM7600 series adopts LCC1 form factor and is compatible with SIM5320/SIM5360 series(UMTS/HSPA+ modules), and SIM7600/SIM7600-H series(LTE modules) , which enables smooth migration from 3G products to LTE products, and greatly facilitates more compatible product design for the customer needs.
Get the high-quality SIM800CE Wireless Module at the best price in India.

The SIM7600 series integrates multiple satellite high accuracy positioning GNSS systems, with multiple built-in network protocols, supports drivers for main operation systems (USB driver for Windows, Linux and Android etc.) and software function, AT commands are compatible with SIM7500/SIM7600-H series modules. Meanwhile the SIM7600 series integrates main industrial standard interfaces, with powerful expansibility, including abundant interfaces such as UART, USB, I2C, GPIO, which is suitable for main IoT applications such as telematics, surveillance devices, CPE, industrial routers, and remote diagnostics etc.
SIM7600CE Module Features:-
Power supply Single supply voltage : 3.4~4.2V
Power saving Current in sleep mode : <5mA
Transmitting power :
GSM/GPRS power class :
EGSM900: 4 (2W)
DCS1800: 1 (1W)
EDGE power class:
EGSM900: E2 (0.5W)
DCS1800: E1 (0.4W)
UMTS power class:
Data Transmission Throughput :

GPRS multi-slot class 12
EDGE multi-slot class 12
UMTS R99 speed: 384 kbps DL/UL
HSPA+: 5.76 Mbps(UL), 42 Mbps(DL)
TD-HSDPA/HSUPA: 2.2 Mbps(UL), 2.8 Mbps(DL)
LTE CAT 1: 10 Mbps(DL)
LTE CAT 1: 5 Mbps(DL)
LTE CAT 4 :150 Mbps (DL)
LTE CAT 4 :50 Mbps (UL)
Antenna :
GSM/UMTS/LTE main antenna.
UMTS/LTE auxiliary antenna
GNSS antenna
GNSS :
GNSS engine (GPS, GLONASS)
SMS :
MT, MO, CB, Text and PDU mode
SMS storage: USIM card or ME(default)
Transmission of SMS alternatively over CS or PS.
Audio feature:
Support PCM interface
Only support PCM master mode and short frame sync
16-bit linear data formats
SIM7600CE Module

Advantages:-
LCC1 form factor with abundant interfaces

Suitable for LTE, UMTS and GSM networks with global coverage

Abundant software functions: FOTA, LBS, TLS, VoLTE

Multi-constellation GNSS receiver support

AT commands of the SIM7600 series are compatible with the SIM7500/SIM7600-H series modules
You may also interested in:-