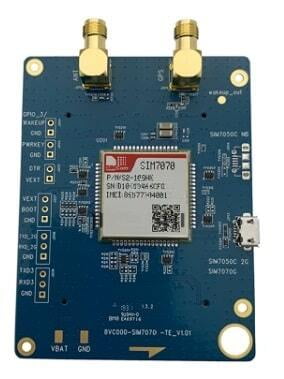 SIMCOM SIM7070G TE BOARD-WI-1521-D
The SIM7070G is Multi-Band CAT-M, NB-IoT and GPRS module solution in a SMT type .It has strong extension capability with rich interfaces including UART, GPIO, PCM, SPI, I2C etc. The module provides much flexibility and ease of integration for customer's application. It is designed for applications that need low latency, Low throughput data communication in a variety of radio propagation conditions. Due to the unique combination of performance, security and flexibility, this module is ideally suited for M2M applications, such as metering, asset tracking, remote monitoring , E-health.
Get the high-quality SIM7070G TE BOARD at the best price in India.
SIM7070G TE BOARD Advantages:-
With Power Save Mode(PSM) and Extended Discontinuous Reception(eDRX), SIM7070G can extend battery life to 10 years.

CAT-M, NB-IoT , GPRS triple mode

The package of SIM7070G is compatible with SIM7000/SIM800F/SIM900
GSM/GPRS:

850/900/1800/1900MHz

Control Via AT Commands

Supply voltage range: 3.0V-4.6V(TBD)

Operation temperature: -40℃ to +85℃

Dimensions: 24X24X2.3mm

Weight: 2.9 ± 0.2g
You may also interested in:-