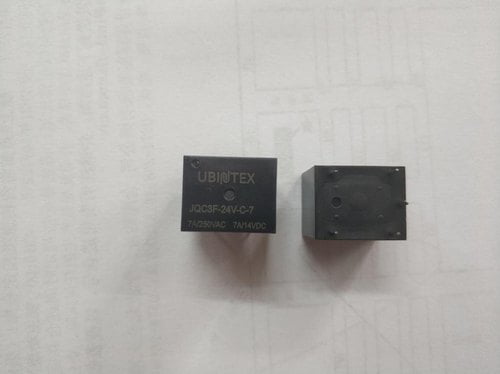 Relay-Sugar Cube - 7A/24V- 1CO - RE-2612-D
Visible Manufacture Name
Ubintex
Visible Manufacturer's code
JQC3F-24V-C-7
Relay-Sugar Cube

is an electromagnetic device that is used to isolate two circuits electrically and connect them magnetically. They are very useful devices and allow one circuit to switch to another one while they are completely separate. They are often used to interface an electronic circuit (working at a low voltage) to an electrical circuit that works at very high voltage. Ideal for use in your academic projects and for small device switching.
Get the high-qua
lity
Relay-Sugar Cube - 7A/24V
at

the best price in India.
Relay-Sugar Cube - 7A/24V Features:-
Supper miniature ,High power
Low coil power consumption
PC board mounting
Suitable for household appliances, automation system, electronic equipment, instrument and meter, communication facilities and remote control facilities.
You may also interested in:-