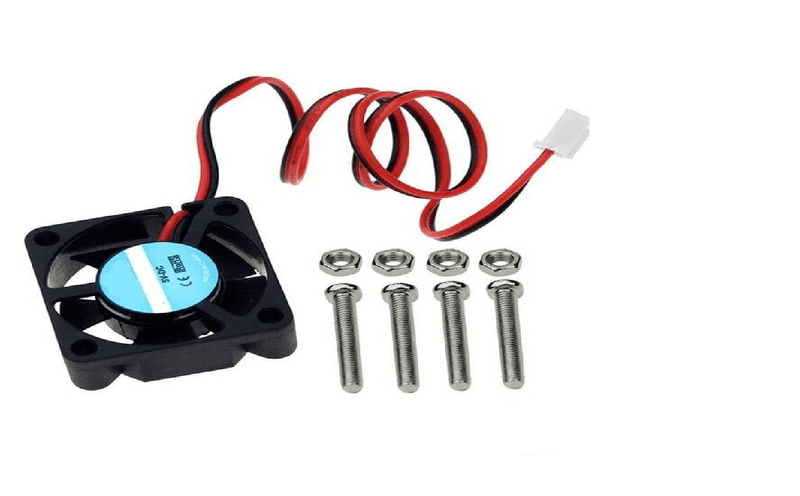 Raspberry Pi Fans with Screw & Nut Size 3010 -RA-949-D
Non-returnable
A 5V 0.2A 3007 Cooling Fan for 3D Printer is a small but powerful fan. The cooling fan finds its use as an exhaust fan on the Raspberry pi case as well as 3D printers. It maintains the temperature of the extruder, which results in smooth printing. This fan is specifically designed for Raspberry Pi and can be mounted on some acrylic cases. The fan is useful for projects where heatsinks just aren't cutting it. Protect your hardware with a low power fan. The greatest feature of this fan is its low power consumption (20mA @ 5VDC). This fan attaches directly to the RPi GPIO and requires no additional power source or relay circuit.
Get the high-quality Raspberry Pi Fans with Screw and Nuts at the best price in India.
The cooling fan operates on 0.2A 5V DC power supply which can be easily powered from RPI board. It has a 2 pin JST connector to easily connect to the printer controller system, and provide hassle-free operation. The fan is made of plastic and is light-weight. It is noiseless as well.
Raspberry Pi Fans with Screw & Nut Features:-
30 x 30 x 10mm casing Frame size

25mm mounting hole spacing

Cable Length 28 CM

4x 20mm Bolt and nuts are included

Ready to plug Connector for Pi board

Color: Black

Perfectly fit on the extruder

Noiseless Performance

Very low Current consumption

Easy to install and connect.
Raspberry Pi Fans with Screw & Nut Specifications:-
Operating Voltage: 5V DC
Operating Current: 0.2 Amp ± 10%
Rated speed: 6000rpm ± 10%
Air flow: 4.5 CFM ± 10%
Cable Length: 9.5 cm
Noise: 18 dB ± 10%
Connector: JST 2P
To know more about all latest Products of Raspberry PI along with its Accessories you can visit at
www.campuscomponent.com
You may also interested in:-