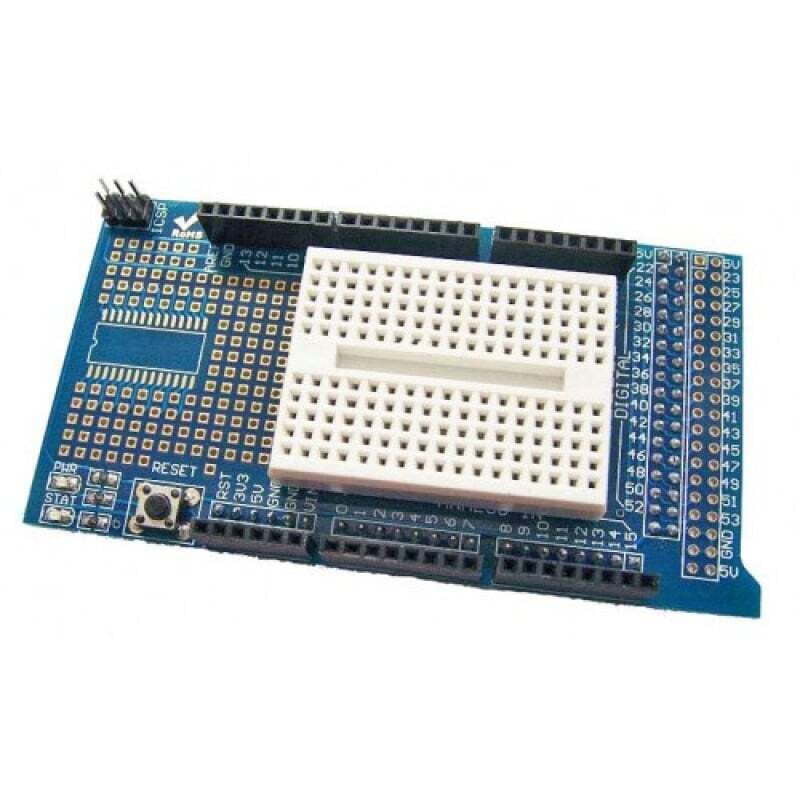 Prototyping Shield with Breadboard for Arduino Mega-AR-145-D
Non-returnable
Visible Manufacture Name
Generic
Visible Manufacturer's code
Prototyping Shield with Breadboard
Prototyping Shield with Breadboard for Arduino Mega is a fully assembled Proto Shield kit with mini bread board. It is very useful when you need to make your own stuff to stick on an Arduino-sized outline .The board is populated with Switches ,LEDs for simple I/O operation and a mini bread board , which can be removable to access PCB pads beneath apart from resistors and capacitors .All I/O pins are available at male header pins for easy jumper connection to bread board.
Get the high-quality Prototyping Shield with Breadboard at the best price in India.
Prototyping Shield with Breadboard for Arduino Mega Features:-

SD card interface works with FAT16 or FAT32 formatted cards.

3.3V level shifter circuitry prevents damage to your SD card.

Real time clock (RTC) keeps the time going even when the Arduino is unplugged.

Included libraries and example code for both SD and RTC, means you can get going quickly.

Prototyping area for soldering connectors, circuitry or sensors.

Onboard 3.3V regulator is both a reliable reference voltage and also reliably runs SD cards that require a lot of power to run.

Works with Arduino UNO, Duemilanove, Diecimila, Leonardo or ADK/Mega R3 or higher.

ADK/Mega R2 or lower are not supported.
Prototyping Shield for Arduino Mega Technical Specifications:-
Arduino MEGA / MEGA2560 Proto Shield prototype expansion board with Immersion Gold PCB processing technology, motherboards, small gold square pad spacing, welding components easier.

SOP28 SMD component package to be more handy Arduino electronics enthusiasts will not be directly insert bound components.

The board can receive Arduino MEGA / MEGA2560 seamless plug controller, directly soldered to the above components to complete a variety of prototype circuit, you can paste Mini bread board, through the 7-color jumper to complete a variety of circuit experiment , board integrated power indicator and status lights, and reset buttons, easy to learn Arduino MEGA / MEGA2560 preferred prototype controller expansion board.

Full Compatible with Arduino Mega ATmega1280 / MEGA2560.

High sensitivity with integrated low-noise RF input amplifier.
You may also interested in:-