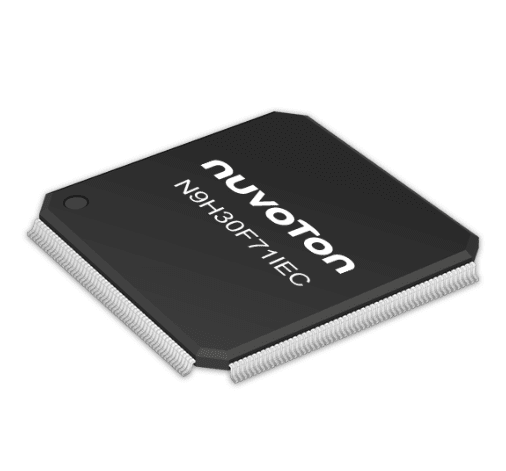 Nuvoton Technology Corporation N9H30F71IEC - IC-3070-D
Non-returnable
Visible Manufacture Name
Nuvoton Technology Corporation
Visible Manufacturer's code
N9H30F71IEC
The N9H30 series targeted for general purpose 32-bit microcontroller embeds an outstanding CPU core ARM926EJ-S, runs up to 300 MHz, with 16 KB I-cache, 16 KB D-cache and MMU, 56KB embedded SRAM and 16 KB IBR (Internal Boot ROM) for booting from USB, NAND and SPI FLASH. The N9H30 series integrates USB 2.0 HS HOST/Device controller with HS transceiver embedded, TFT type LCD controller, 2D graphics engine, I2S I/F controller, SD/MMC/NAND FLASH controller, GDMA and 8 channels 12-bit ADC controller with resistance touch screen functionality. It also integrates UART, SPI/MICROWIRE, I2C, LIN, PWM, Timer, WDT/Windowed-WDT, GPIO, Keypad, Smart Card I/F, 32.768 KHz XTL and RTC (Real Time Clock).
Get the high-quality
Nuvoton Microcontrollers
at the best price in India.
Features and Specifications of N9H30F71IEC:
ARM® ARM926EJ-STM processor core runs up to 300 MHz
Support 16 KB instruction cache and 16 KB data cache
Support MMU
Support JTAG Debug interface
Support LVDDR and DDR2 SDRAM
Clock speed up to 150 MHz
Support 16-bit data bus width
Memory size depended on embedded SDRAM configuration by different part number.
Support 56K bytes embedded SRAM
Support 16K bytes Internal Boot ROM (IBR)
Support up to four booting modes
Boot from USB
Boot from eMMC
Boot from NAND Flash
Boot from SPI Flash
Support two PLLs, up to 500 MHz, for high performance system operation
External 12 MHz high speed crystal input for precise timing operation
External 32.768 kHz low speed crystal input for RTC function and low speed clock source
To know more about all latest Products of Microcontroller and Development Board you can visit at
www.campuscomponent.com