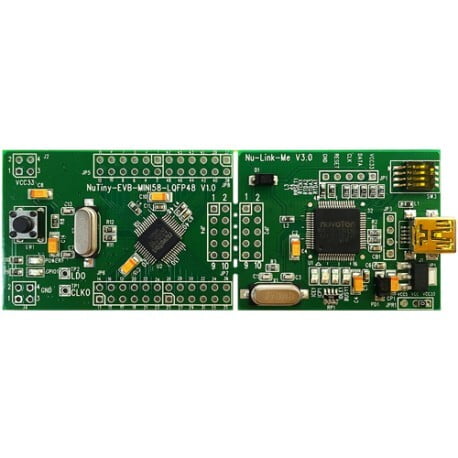 Nuvoton Nutiny-Mini58L NT-DE-1189-D
Non-returnable
Visible Manufacture Name
Nuvoton
Visible Manufacturer's code
NT-MINI58L
The

NuMicro® Mini58

series is pin-to-pin and function compatible with the NuMicro® Mini51 series, the 32-bit microcontroller (MCU) embedded with the ARM® Cortex® -M0 core. The Mini58 series can bridge the gap and replace the cost equivalent to traditional 8- and 16-bit microcontroller by 32-bit performance and rich functions. The Mini58 series supports a wide range of applications from low-end, price sensitive designs to computing-intensive ones and provides advanced high end features in economical products.
Get the high-quality Nuvoton
Nutiny-Mini58L NT
at the best price in India.
The Mini58 series can run up to 50 MHz which is faster than 24 MHz in Mini51 series, and operate at a wide voltage range of 2.5V ~ 5.5V and temperature range of -40℃ ~ +105℃. For the Mini58 series, the embedded program flash size upgrades from 16 Kbytes to 32 Kbytes and SRAM upgrades from 2 Kbytes to 4 Kbytes. The Mini58 series also offers size configurable Data Flash (shared with program flash), and 2.5 Kbytes flash for the ISP.
Nuvoton Nutiny-Mini58L NT Features:-
ARM® Cortex®-M0 core running up to 50 MHz

One 24-bit system timer


Supports low power Idle mode

A single-cycle 32-bit hardware multiplier

NVIC for the 32 interrupt inputs, each with 4-level of priority

Supports Serial Wire Debug (SWD) interface and two watchpoints/four
32 KB Flash memory for program memory (APROM)

Configurable Flash memory for data memory (Data Flash)

2.5 KB Flash for loader (LDROM)

4 KB SRAM for internal scratch-pad RAM (SRAM)
Up to 30 general-purpose I/O (GPIO) pins for LQFP-48 package
Quasi-bidirectional input/output

Push-Pull output

Open-Drain output

Input only with high impendence

Optional Schmitt trigger input
Provides two channel 32-bit Timers; one 8-bit pre-scaler counter with 24-bit up-timer for each timer

Supports Event Counter mode


Supports Toggle Output mode

Supports external trigger in Pulse Width Measurement mode

Supports external trigger in Pulse Width Capture mode
UART (Universal Asynchronous Receiver/Transmitters):-
Two UART devices

Buffered receiver and transmitter, each with 16-byte FIFO

Optional flow control function (CTSn and RTSn)

Supports IrDA (SIR) function

Programmable baud-rate generator up to 1/16 system clock

Supports RS-485 function
To know more about all latest Products of Microcontroller and Development Boards you can visit at
www.campuscomponent.com
You may also interested:-