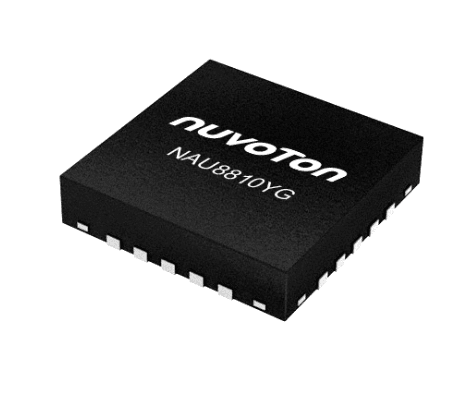 Nuvoton NAU8810YG - DE-2335-D
Visible Manufacture Name
Nuvoton
Visible Manufacturer's code
NAU8810YG
The NAU8810 a cost effective low power wideband Monophonic audio CODEC. It is suitable for a wide range of audio applications, including voice telephony. Supported functions include a 5-band Graphic Equalizer, Automatic Level Control (ALC) with noise gate, PGA, standard I2S or PCM audio interface, optional PCM time slot assignment, and a full fractional-N on-chip PLL. This device includes one differential microphone input, and multiple variable gain control stages in the audio paths. Both a Mono headset/line-level output and a high power differential BTL speaker driver output are provided.
Get the high-quality
Nuvoton NAU8810YG
at the best price in India.
24-bit signal processing linear Audio CODEC
Audio DAC: 93dB SNR and -84dB THD

Audio ADC: 91dB SNR and -79dB THD

Support variable sample rates from 8 - 48kHz
Integrated programmable Microphone Amplifier

Integrated BTL Speaker Driver 1 W (8Ω / 5V)

Earphone / Speaker / Line-Output Mixing / Routing

Integrated Headset Driver 40mW (16Ω / 3.3V)
I2S digital interface PCM time slot assignment

2-Wire serial control Interface (I2C style; /Write capable)
To know more about all latest Products of Microcontroller and Development Boards you can visit at
www.campuscomponent.com
Attachment:-
You may also interested in:-