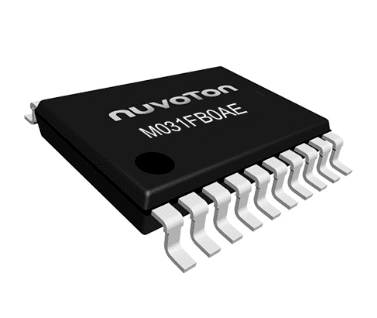 Nuvoton Technology Corporation M031FB0AE - DE-1211-D
Non-returnable
Visible Manufacture Name
Nuvoton Technology Corporation
Visible Manufacturer's code
M031FB0AE
The M031/M032 series supports up to 128 Kbytes of Flash memory, up to 16 Kbytes of SRAM, for the program code and runtime storage. A special design 512 bytes SPROM (Security Protection ROM) is to protect user's code or library been read. It supports 4 Kbytes Flash memory of ISP (In-System Programming) to easily upgrade new firmware and the IAP (In-Application Programming) feature that can upgrade firmware while program is running. The enhanced fast 2 MSPS conversion rate of 12-bit ADC, comparator and PWM control provide a fast and precise data conversion of the voltage, current, and sensor data, and fast response control for the external device, such as the current/voltage feedback from motor control or sensing devices.
Get the high-quality
Nuvoton M031FB0AE
at the best price in India.
Nuvoton M031FB0AE

Target Application:-
Laser Distance Meter


Air Detector/Cleaner

Mobile LCD Panel Controller

Micro Printer

WPC Wireless Charger
Nuvoton M031FB0AE
Key Features:-
Operating Characteristics :

Voltage range: 1.8 V to 3.6 V

Temperature range: - 40°C to +105°C

EFT 4.4 kV

ESD HBM 6 kV
Arm® Cortex®-M0 processor running up to 48 MHz

32-bit H/W multiplier/divider
16 KB Flash

2 KB SRAM

2 KB Flash for user program loader ( LDROM )

ISP / ICP / IAP programming

512 bytes SPROM ( Security Protection ROM )
4 to 32 MHz HXT crystal oscillator or external input clock

Internal 48 MHz HIRC oscillator with variation ± 2 % within all temperature range

Internal 38.4 kHz LIRC for Low-power operating mode
Up to Two 32-bit timers

One 24-bit SysTick timer
6 channels 96 MHz 16-bit PWM
7 channels 12-bit 2 MSPS ADC
CRC-CCITT, CRC-8, CRC-16 and CRC-32 polynomials
Communication interfaces :
2-set of 6 MHz UART interfaces

1-set of UART for simple Tx/Rx operation

2-set of 1 MHz I²C interfaces

1-set of 24 MHz SPI /I²S interface

15 GPIO ( except analog pins, Support 5V tolerant I/O )

96-bit Unique ID ( UID )

128-bit Unique Customer ID ( UCID )
To know more about all latest Products of Microcontroller and Development Boards you can visit at
www.campuscompoent.com
You may also interested in:-