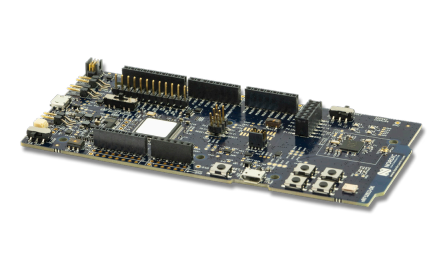 nRF52833-DK-Development kit for Bluetooth 5.1 - WI-1602-D
The nRF52833 DK is an affordable single-board development kit for Bluetooth® 5.1, Bluetooth mesh, Thread, Zigbee, 802.15.4 and 2.4 GHz proprietary applications using the nRF52833 multi-protocol SoC. The kit is compatible with the Arduino Uno Rev3 standard making it possible to use a wide range of 3rd-party shields during development, including the compatible Power Profiler Kit from Nordic Semiconductor. The kit has access to all I/Os (42) and interfaces via connectors and there is an integrated PCB trace antenna and an RF connector for direct RF test measurements. There is also a connector for an external NFC antenna (included in kit).
Get the
high-quality nRF52833-DK-Development kit for Bluetooth 5.1 at
the best price in India.
nRF52833-DK-Development kit for Bluetooth 5.1 Features:-
Bluetooth 5.1 multiprotocol radio
2 Mbps

Long Range

Advertising Extensions

Channel Selection Algorithm #2 (CSA #2)

Bluetooth mesh

Direction Finding
IEEE 802.15.4 radio support - Thread - Zigbee

Arm® CortexTM-M4 with FPU

Arduino Rev3 compatible connector for use with 3rd party shields

All I/Os and interfaces available via connectors

Segger J-Link OB programming/debugging supported

Support for programming/debugging of external boards

USB interface direct to nRF52833 SoC

USB interface to power and program/debug

Integrated 2.4 GHz PCB antenna

Connector for external NFC antenna (included)

SWF connector for direct RF measurements

Pins for power consumption measurements

4 x user-programmable buttons
nRF52833-DK-Development kit Applications:-
Professional lighting

Asset tracking

Wayfinding

Multiprotocol devices

Mesh networks

Advanced wearables

Smart home

HID/Gaming/VR

Toys

Sports and fitness
You may also interested in:-