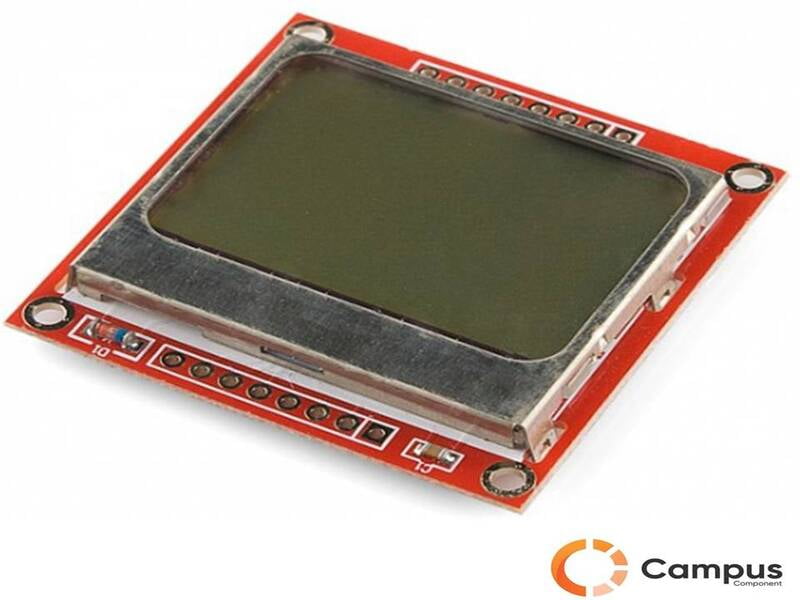 Nokia 5110 LCD-AR-153-D
Non-returnable
Nokia 5110 LCD
is a low-cost monochrome LCD module comprised of 84x48 pixels that can be used to display rich graphic and text content. Though its an industrial module, this LCD display is extremely easy to use. This module is a revision that accepts 3-5V input. So no extra level shifter is needed.
To have full control, you just need 5 pins. And as a classic display module among open source communities, there are handful related tutorials available over the Internet. So there is no need to panic even if you just got your foot in the door. Cause
Nokia 5110 LCD
module was discontinued, this product is made of recycled screen. Blemishes may exist. Please be aware of that.
Get the high-quality
Nokia 5110 LCD
at the best price in India.
Nokia 5110 LCD Features:-
84 X 48 dot matrix LCD, can show 4 lines of characters.

Use serial interface communicate with the master processor, the number of interface signal line reduced greatly, only 8 signal lines including power and GND.

Support different types of MCU, such as the Arduino, AVR, SPI, MCS51 and so on.

Transfer rate up to 4Mbps, can full speed write display data without waiting time.

Can use the conductive glue to connect the module to the printed board, without cables. The metal hooks on the module can fix the module on the printed board, which is very easy to install and replace.

LCD controller/driver chip has been bound to LCD chip, the volume of LCD is small.

Low power supply, the working current in a normal situation is lower than 200µA and has the power-down mode.

"LIGHT" linked with GND, the backlight to be lit.

Need you to compress the screen and PCB tighter, might be got loose after the delivery.

Use a 5 to 7V controller, otherwise, the display could be quite vague.
You may also interested in:-