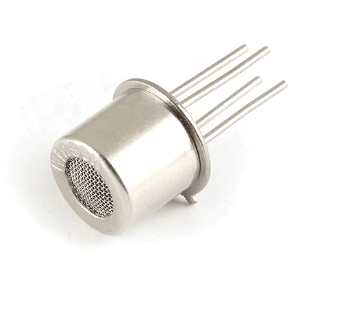 MP-5 Flammable Gas Sensor - SE-3297-D
SPQ: 1, MOQ:1, Product Package:
Visible Manufacture Name
WINSEN
Visible Manufacturer's code
MP-5
MP-5 gas sensor is for flammable gases. It adopts multilayer thick film manufacturing technology. The heater and metal oxide semiconductor material on the ceramic substrate of subminiature Al2O3 are fetched out by electrode down-lead, encapsulated in metal socket and cap. Conductivity of the sensor is affected by the concentration of target gas. The higher the concentration is, the higher conductivity of sensor gets. Users can adopt simple circuit to convert variation of conductivity into output signal corresponding to gas concentration.
Lower consumption

Small size

Fast response and resume

Highest sensitivity

Excellent stability and long life

Easy circuit and big signal output

Excellent selectivity
It is widely used in domestic gas leakage alarm

industrial flammable gas alarm

portable gas detector
You may also interested in:-