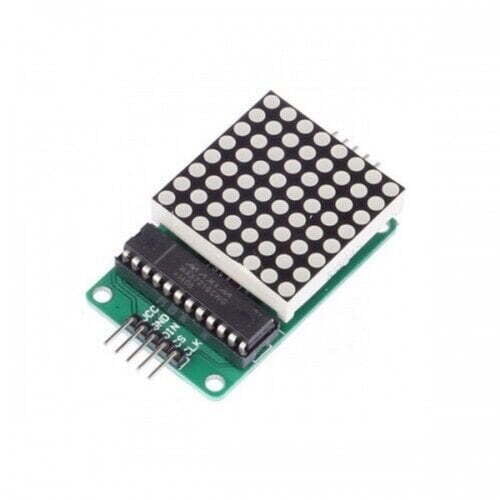 Max7219 Dot Matrix Module for Arduino-AR-151-D
Non-returnable
The MAX7219 LED driver can be used to control 7-segment displays up to 8 digits, bar-graph displays, or 64 individual LEDs. The driver communicates with the Arduino through SPI so you only need three wires to control the display.Since the MAX7219 can control a maximum of 64 LEDs, the maximum size dot matrix display it can drive is 8×8 pixels. However, you can daisy chain multiple drivers and matrices together and easily control much larger displays like 8×32, 8×64, or even bigger. Still, you only need three wires to control all of the ICs so you need very few I/O pins of the Arduino.
Get the high-quality
Max7219 Dot Matrix Module for Arduino
at the best price in India.
Max7219 Dot Matrix Module for Arduino Specifications:-
Operating voltage: 5V

Display driver : MAX7219 x 4

Brightness levels : 16

Display dimensions: 32 x 128 x 15 mm


Pixels: 8×32, ⌀ 3 mm



Max7219 Dot Matrix Module for Arduino Features:-
10MHz Serial Interface

Individual LED Segment Control

Decode/No-Decode Digit Selection

150μA Low-Power Shutdown (Data Retained)

Digital and Analog Brightness Control

Display Blanked on Power-Up

Drive Common-Cathode LED Display

Slew-Rate Limited Segment Drivers for Lower EMI (MAX7221)

SPI, QSPI, Microwire Serial Interface (MAX7221)

24-Pin DIP and SO Packages
Max7219 Dot Matrix Module for Arduino Applications:-
Bar-Graph Displays

7-Segment Displays

Industrial Controllers

Panel Meters

LED Matrix Displays