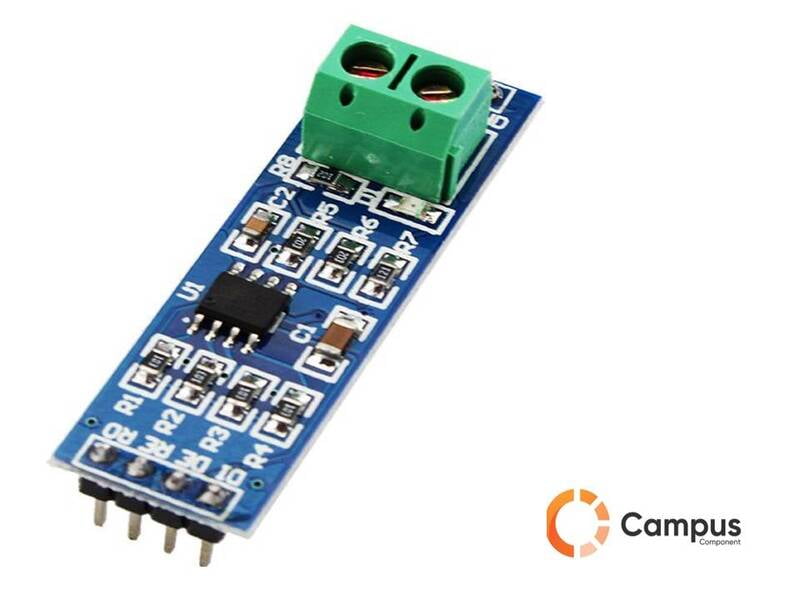 MAX 485 to TTL CONVERTOR-IN-313-D
Non-returnable
Visible Manufacture Name
Microadapt
Visible Manufacturer's code
MA220021
MAX 485 to TTL
converter

lets you send and receive data using the RS485 network from your Arduino/micro controller. Similar to Serial TTL and RS232 interfaces, the RS485 lets you transfer data between micro controllers and devices but with extra features! RS485 is an industry standard protocol for data transfer and provides numerous advantages. It lets you transfer data between up to 32 devices, through the same data line over a cable length of up to 1.2km (4000ft) with a maximum data rate of 10Mbit/s. This converter is designed for office and industrial applications (non-isolated), and provides superior characteristics/features normally found only on more expensive units.
Get the high-quality
MAX 485 to TTL CONVERTOR
at the best price in India.

MAX 485 to TTL CONVERTOR Features:-
Lets Arduino and Microcontrollers connect to a RS485 network

Module can send and receive data through RS485. Transceiver Facility (Automatic Switching between Transmit/Receive mode of RS485)

Module can be used with a optional twisted pair cable which WILL work up to 1.2 Km distance

Supports point-to-multipoint connections, this converter can connect up to 32 RS485 interface devices

On board 3 Pin 5.08 mm pitch screw terminal to facilitate RS-485 communication wiring

Termination Resister Jumper provides option to use in Multi Drop RS485 network.

Built in terminal resistor of 100R Ohm

Up to 32 nodes per network.

Ground Output is available onboard which can be used for wire shielding when using over long distances. This reduce EMI and interference on the cable

On-board MAX485 chip, low-power, Slew-Rate Transceiver

RS485 is brought out to 5.08 (mm) pitch 2P terminal for easy wiring RS-485 communication

Power LED Indication

2.54mm Pitch interface

Working voltage: 5V

Board size: 44 (mm) x14 (mm)
You may also interested in:-