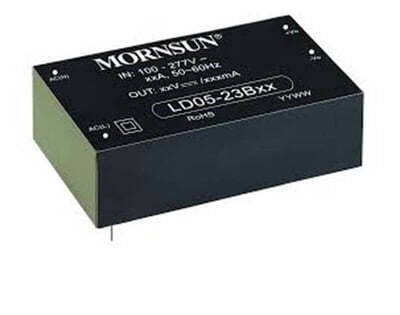 LD05-23B15R2 : 5W,15V PCB Mountable-Isolated AC-DC Converter - PO-1749-D
Non-returnable
Visible Manufacture Name
MORNSUN GUANGZHOU SCIENCE & TECHNOLOGY CO., LTD.
Visible Manufacturer's code
LD05-23B15R2 : 5W,15V
LD05-23BxxR2 series AC-DC converters is one of Mornsun's compact size power converter. It features ultra-wide AC input and at the same time accepts DC input voltage, low power consumption, high efficiency, high reliability, reinforced isolation. It offers good EMC performance compliant to IEC/EN61000-4 and CISPR32/EN55032 and meets IEC/EN/UL62368/EN60335/EN61558 standards. The converters are widely used in industrial, power, home appliances, instrumentation, communication and civil applications.
Get the high-quality LD05-23B15R2 : 5W,15V PCB Mountable-Isolated AC-DC Converter at the best price in India.
LD05-23B15R2 : 5W,15V PCB Mountable-Isolated AC-DC Converter Features:-
Ultra-wide 85 - 305 VAC and 100 - 430 VDC input voltage range

1 × 1 inch compact size

Operating ambient temperature range: -40℃ to +85℃

Up to 81.5% efficiency

No-load power consumption 0.1W

5000m altitude application

Plastic case meets UL94V-0 flammability

EMI performance meets CISPR32/EN55032 CLASS B, EN55014

IEC/EN/UL62368/EN60335/EN61558 safety approval CB RoHS
PCB Mountable-Isolated AC-DC Converter Specifications:-
Case Material Black plastic, flame-retardant and heat-resistant (UL94V-0)

Dimension Horizontal package 25.40 x 25.40 x 17.60 mm

A2S mounting 76.00 x 31.50 x 26.40 mm

A4S mounting 76.00 x 31.50 x 31.00 mm

Weight Horizontal package 3.3V/5V/9V/12V 18.0g (Typ.)

A2S mounting 38.0g (Typ.)

A4S mounting 58.0g (Typ.)

Cooling method Free air convection
You may also interested in:-