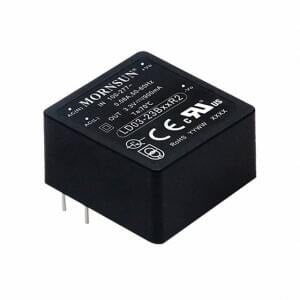 Mornsun AC-DC Converter LD03-23B24R2 :3W,24V - PO-1744-D
Non-returnable
Visible Manufacture Name
MORNSUN GUANGZHOU SCIENCE & TECHNOLOGY CO., LTD.
Visible Manufacturer's code
LD03-23B24R2 :3W,24V
LD03-23BxxR2 series AC-DC converters is one of Mornsun's compact size power converter. It features ultra-wide AC input and at the same time accepts DC input voltage, low power consumption, high efficiency, high reliability, reinforced isolation. It offers good EMC performance compliant to IEC/EN61000-4 and CISPR32/EN55032 and meets IEC/EN/UL62368/EN60335/EN61558 standards. The converters are widely used in industrial, power, home appliances, instrumentation, communication and civil applications. For extremely harsh EMC environment, we recommend using the application circuit show in Design Reference of this datasheet.
Get the high-quality LD03-23B24R2 :3W,24V PCB Mountable Isolated AC-DC Converter at the best price in India.
LD03-23B24R2 :3W,24V PCB Mountable-Isolated AC-DC Converter Features:-
Ultra-wide 85 - 305 VAC and 100 - 430 VDC input voltage range

1 × 1 inch compact size

Operating ambient temperature range: -40℃ to +85℃

Up to 79% efficiency

No-load power consumption 0.1W

5000 m altitude application

Plastic case meets UL94V-0 flammability

EMI performance meets CISPR32/EN55032 CLASS B, EN55014

IEC/EN/UL62368/EN60335/EN61558 safety approval CB RoHS
PCB Mountable-Isolated AC-DC Converter Specifications:-
Case Material Black plastic, flame-retardant and heat-resistant (UL94V-0)

Dimension Horizontal package : 25.40 x 25.40 x 17.60 mm

A2S mounting : 76.00 x 31.50 x 26.40 mm

A4S mounting : 76.00 x 31.50 x 31.00 mm

Weight Horizontal package 3.3V/5V/9V/12V 18.0g (Typ.)

A2S mounting 38.0g (Typ.)

A4S mounting 58.0g (Typ.)

Cooling method Free air convection
You may also interested in:-