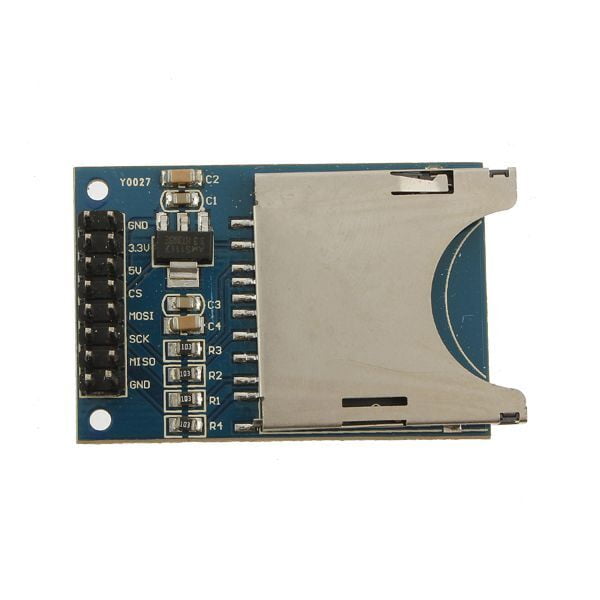 SD CARD READER MODULE-AR-333-D
Non-returnable
SPQ:1,MOQ:1,Product Package:
Visible Manufacture Name
Microadapt
Visible Manufacturer's code
MA570050
Storing data is one of the most important parts of every project. There are several ways to store data according to the data type and size. SD CARD READER MODULE are one of the most practical ones among the storage devices, which are used in devices such as mobile phones, minicomputers and etc. The SD and micro SD card modules allow you to communicate with the memory card and write or read the information on them. The module interfaces in the SPI protocol.
Get the high-quality SD Card Reader Module at the best price in India.
SD Card Reader Module
Features:-
The level conversion circuit board that can interface level is 5V or 3.3V support micro SD card, micro SDHC card (high-speed card)

Power supply is 4.5V ~ 5.5V, 3.3V voltage regulator circuit board

Communication interface is a standard SPI interface

4 M2 screw positioning holes for easy installation

Control Interface: A total of six pins (GND, VCC, MISO, MOSI, SCK, CS), GND to ground, VCC is the power supply, MISO, MOSI, SCK is the SPI bus, CS is the chip select signal pin

Level Conversion Circuit: Micro SD card into the direction of signals into 3.3V, microSD card toward the direction of the control interface MISO signal is also converted to 3.3V, general AVR microcontroller system can read the signal

Control Interface: A total of six pins (GND, VCC, MISO, MOSI, SCK, CS), GND to ground, VCC is the power supply, MISO, MOSI, SCK is SPI bus, CS is the chip select signal pin
You may also interested in:-