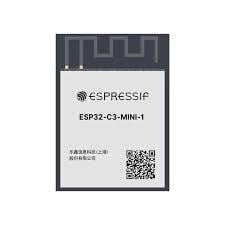 Espressif Systems ESP32-C3-MINI-1-N4 - WI-2403-D
Visible Manufacture Name
ESP32-C3-MINI-1-N4
Visible Manufacturer's code
ESP32-C3-MINI-1-N4
ESP32-C3-MINI-1 and ESP32-C3-MINI-1U are two general-purpose Wi-Fi and Bluetooth LE modules. The rich set of peripherals and a small size make the two modules an ideal choice for smart homes, industrial automation, health care, consumer electronics, etc.The two variants only differ in chip integrated and ambient operating temperature. In this datasheet unless otherwise stated, ESP32-C3-MINI-1 refers to both ESP32-C3-MINI-1-N4 and ESP32-C3-MINI-1-H4, whereas ESP32-C3-MINI-1U refers to both ESP32-C3-MINI-1U-N4 and ESP32-C3-MINI-1U-H4.
Get the high-quality ESP32-C3-MINI-1-N4 WIFI Module at the best price in India.
The ESP32-C3FN4 chip and the ESP32-C3FH4 chip, both with a 4 MB flash, fall into the same category, namely ESP32-C3 chip series. ESP32-C3 series of chips have a 32-bit RISC-V single-core processor. They integrate a rich set of peripherals, ranging from UART, I2C, I2S, remote control peripheral, LED PWM controller, general DMA controller, TWAI® controller, USB Serial/JTAG controller, temperature sensor, and ADC. It also includes SPI, Dual SPI and Quad SPI interfaces.
ESP32-C3-MINI-1-N4
Features:-
ESP32-C3FH4 or ESP32-C3FN4 embedded, 32-bit RISC-V single-core processor, up to 160 MHz

384 KB ROM

400 KB SRAM (16 KB for cache)

8 KB SRAM in RTC

4 MB embedded flash
IEEE 802.11 b/g/n-compliant

Center frequency range of operating channel: 2412 ~ 2484 MHz

Supports 20 MHz, 40 MHz bandwidth in 2.4 GHz band

1T1R mode with data rate up to 150 Mbps

Wi-Fi Multimedia (WMM)

TX/RX A-MPDU, TX/RX A-MSDU

Immediate Block ACK

Fragmentation and defragmentation

Transmit opportunity (TXOP)

Automatic Beacon monitoring (hardware TSF)

4 × virtual Wi-Fi interfaces

Simultaneous support for Infrastructure BSS in Station mode, SoftAP mode, Station + SoftAP mode, and promiscuous mode Note that when ESP32-C3 series scans in Station mode, the SoftAP channel will change along with the Station channel

Antenna diversity

802.11mc FTM
Bluetooth LE: Bluetooth 5, Bluetooth mesh

Speed: 125 Kbps, 500 Kbps, 1 Mbps, 2 Mbps

Advertising extensions

Multiple advertisement sets

Channel selection algorithm #2
GPIO, SPI, UART, I2C, I2S, remote control peripheral, LED PWM controller, general DMA controller, TWAI® controller (compatible with ISO 11898-1), USB Serial/JTAG controller, temperature sensor, SAR ADC Integrated Components on Module

40 MHz crystal oscillator
On-board PCB antenna (ESP32-C3-MINI-1)

External antenna via a connector (ESP32-C3-MINI-1U)
Operating voltage/Power supply: 3.0 ~ 3.6 V

Operating ambient temperature:

– 85 °C version module: –40 ~ 85 °C

– 105 °C version module: –40 ~ 105 °C
You may also interested in :-