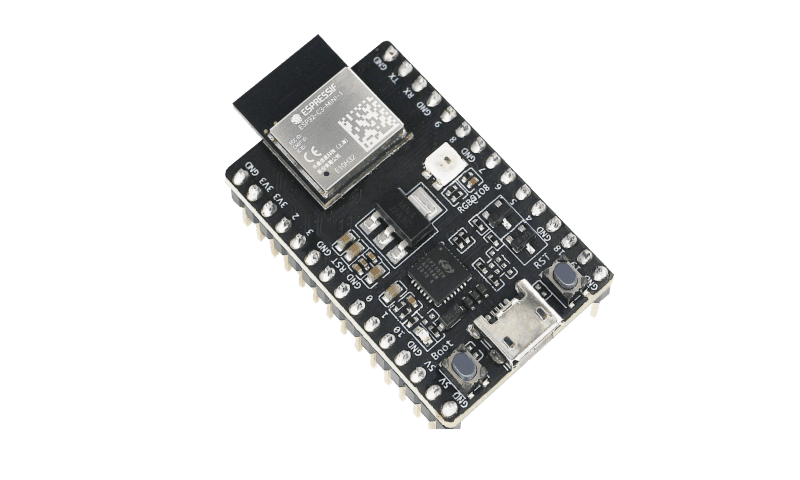 Espressif Systems ESP32-C3-DevKitM-1 - WI-2402-D
Visible Manufacture Name
Espressif
Visible Manufacturer's code
ESP32-C3-DevKitM-1
ESP32-C3-DevKitM-1 is an entry-level development board based on ESP 32-C3-DevKitM, a module named for its small size. This board integrates complete Wi-Fi and Bluetooth LE functions. Most of the I/O pins on the ESP32-C3-MINI-1 module are broken out to the pin headers on both sides of this board for easy interfacing. Developers can either connect peripherals with jumper wires or mount ESP32-C3-DevKitM-1 on a breadboard.
• A complete Wi-Fi subsystem that complies with IEEE 802.11b/g/n protocol and supports Station mode, SoftAP mode, SoftAP + Station mode, and promiscuous mode.
• A Bluetooth LE subsystem that supports features of Bluetooth 5 and Bluetooth mesh
• State-of-the-art power and RF performance
• 32-bit RISC-V single-core processor with a four-stage pipeline that operates at up to 160MHz
Get the high-quality
Espressif ESP32-C3-DevKitM
WIFI Development Board
at the best price in India.
Espressif ESP32-C3-DevKitM Features:-
Wi­Fi :
IEEE 802.11 b/g/n-compliant

upports 20 MHz, 40 MHz bandwidth in 2.4

GHz band

1T1R mode with data rate up to 150 Mbps

Wi-Fi Multimedia (WMM)

TX/RX A-MPDU, TX/RX A-MSDU

Immediate Block ACK

Fragmentation and defragmentation
Bluetooth :
Bluetooth LE: Bluetooth 5, Bluetooth mesh

Speed: 125 Kbps, 500 Kbps, 1 Mbps, 2 Mbps

Advertising extensions

Multiple advertisement sets

Channel selection algorithm #2
CPU and Memory :
32-bit RISC-V single-core processor, up to 160 MHz

384 KB ROM

400 KB SRAM (16 KB for cache)

8 KB SRAM in RTC

Embedded flash
Attachment:-