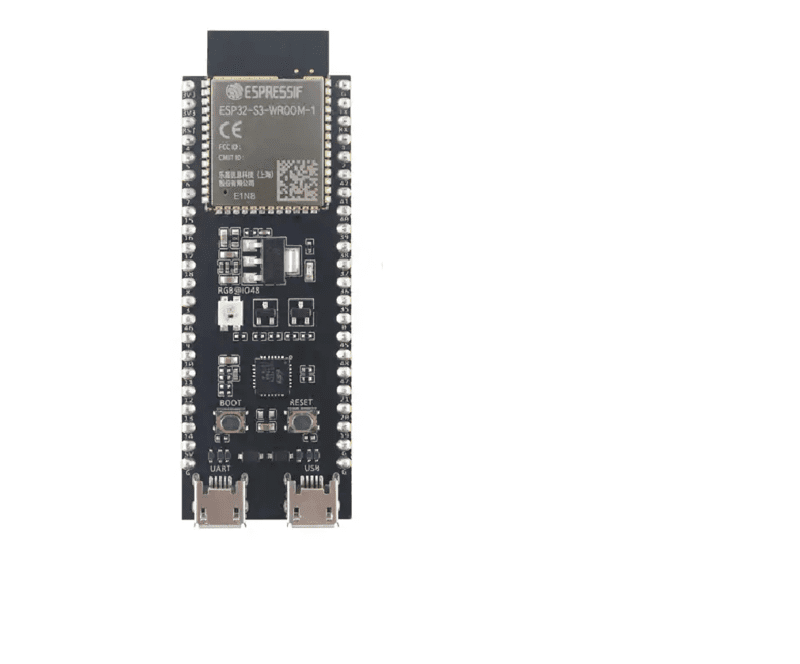 Espressif Systems Development Board ESP32-S3-DevKitC-1 WI-2590-D
Visible Manufacture Name
ESP32-S3-DevKitC-1-N8
Visible Manufacturer's code
ESP32-S3-DevKitC-1-N8
The ESP32-S3-DevKitC-1 is an entry-level development board equipped with either ESP32-S3-WROOM1 or ESP32-S3-WROOM-1U, a general-purpose Wi-Fi + Bluetooth LE MCU module that integrates complete Wi-Fi and Bluetooth LE functions. Most of the I/O pins on the module are broken out to the pin headers on both sides of this board for easy interfacing. Developers can either connect peripherals with jumper wires or mount ESP32-S3-DevKitC-1 on a breadboard.
Get the high-quality ESP32-WROOM WIFI Module at the best price in India.
ESP32-S3-DevKitC-1 Required Hardware:-
ESP32-S3-DevKitC-1

USB 2.0 cable (Standard-A to Micro-B)

Computer running(Windows ,linux and macOS)
ESP32-S3-DevKitC-1 Key Components:-
5 V to 3.3 V:
LDO Power regulator that converts a 5 V supply into a 3.3 V output.
Pin Headers :
All available GPIO pins (except for the SPI bus for flash) are broken out to the pin headers on the board for easy interfacing and programming. For details, please see Header Block.
USB-to-UART :
Port A Micro-USB port used for power supply to the board, as well as the communication with the ESP32-S3 chip via the on-board USB-toUART bridge.
ESP32-S3 USB Port :
ESP32-S3 full-speed USB OTG interface , compliant with the USB 1.1 specification.
To know more about all latest Products of Espressif ESP-32 WIFI Module you can visit at www.campuscomponent.com

Attachment:-
Espressif Development Board ESP32-S3-DevKitC-1 Datasheet
You may also interested in:-