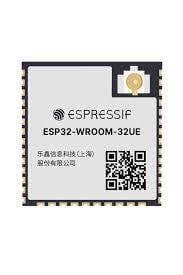 Espressif Systems ESP32-WROOM-32UE-N8-WI-1771-D
Visible Manufacture Name
ESPRESSIF
Visible Manufacturer's code
ESP32-WROOM-32UE(M113EH6400UH3Q0)
ESP32-WROOM-32 UE are two powerful, generic Wifi+BT+BLE MCU modules that target a wide variety of applications, ranging from low-power sensor networks to the most demanding tasks, such as voice encoding, music streaming and MP3 decoding. ESP32-WROOM-32 UE with an IPEX antenna. They both feature a 8 MB external SPI flash. The integration of Bluetooth®, Bluetooth LE and Wi-Fi ensures that a wide range of applications can be targeted, and that the module is all-around: using Wi-Fi allows a large physical range and direct connection to Internet through a Wi-Fi router, while using Bluetooth allows the user to conveniently connect to the phone or broadcast low energy beacons for its detection.
Get the high-quality
ESP32-WROOM-32UE WIFI Module
at the best price in India.
The sleep current of the ESP32 chip is less than 5 μA, making it suitable for battery powered and wearable electronics applications. The module supports a data rate of up to 150 Mbps, and 20 dBm output power at the antenna to ensure the widest physical range. As such the module does offer industry-leading specifications and the best performance for electronic integration, range, power consumption, and connectivity.
ESP32-WROOM-32UE Features:-
ESP32-D0WD-V3 embedded, Xtensa® dual-core 32-bit LX6 microprocessor, up to 240 MHz

448 KB ROM for booting and core functions

520 KB SRAM for data and instructions

16 KB SRAM in RTC
802.11b/g/n

Bit rate: 802.11n up to 150 Mbps

A-MPDU and A-MSDU aggregation

0.4 μs guard interval support

Center frequency range of operating channel: 2412 ~ 2484 MHz
Bluetooth V4.2 BR/EDR and Bluetooth LE specification

Class-1, class-2 and class-3 transmitter


AFH

CVSD and SBC
Interfaces: SD card, UART, SPI, SDIO, I2C, LED PWM, Motor PWM, I2S, IR, pulse counter, GPIO, capacitive touch sensor, ADC, DAC

40 MHz crystal oscillator

4 MB SPI flash

Operating voltage/Power supply: 3.0 ~ 3.6 V

Operating temperature range: –40 ~ 85 °C
To know more about all latest Products of Espressif ESP-32 WROOM-32UE WIFI Module you can visit at www.campuscomponent.com
You may also interested in:-