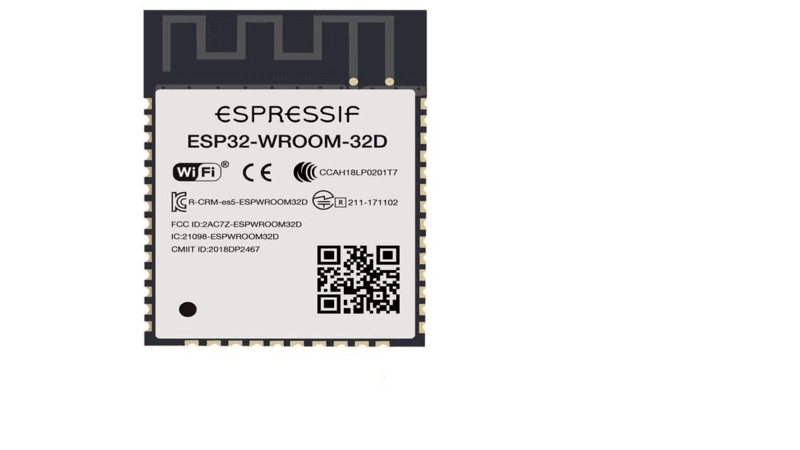 Espressif Systems ESP32-WROOM-32D-N16-WI-1676-D
Visible Manufacture Name
ESPRESSIF
Visible Manufacturer's code
ESP32 WROOM 32D 16MB
ESP32-WROOM-32D are powerful, generic Wi-Fi+BT+BLE MCU modules that target a wide variety of applications, ranging from low-power sensor networks to the most demanding tasks, such as voice encoding, music streaming and MP3 decoding. ESP32-WROOM-32U is different from ESP32-WROOM-32D in that ESP32-WROOM-32U integrates a U.FL connector. For detailed information of the U.FL connector please see Chapter 10. Note that the information in this data sheet is applicable to both modules. Any differences between them will be clearly specified in the course of this document. Table 1 lists the difference between ESP32-WROOM-32D and ESP32-WROOM-32U.
Get the high-quality ESP32-WROOM WIFI Module at the best price in India.


The integration of Bluetooth, Bluetooth LE and Wi-Fi ensures that a wide range of applications can be targeted, and that the module is all-around: using Wi-Fi allows a large physical range and direct connection to the Internet through a Wi-Fi router, while using Bluetooth allows the user to conveniently connect to the phone or broadcast low energy beacons for its detection. The sleep current of the ESP32 chip is less than 5 μA, making it suitable for battery powered and wearable electronics applications. The module supports a data rate of up to 150 Mbps, and 20 dBm output power at the antenna to ensure the widest physical range. As such the module does offer industry-leading specifications and the best performance for electronic integration, range, power consumption, and connectivity.
ESP32-WROOM-32D Specifications:-
RF Certification: FCC/CE-RED/IC/TELEC/KCC/SRRC/NCC

Wi-Fi Certification: Wi-Fi Alliance

Bluetooth certification: BQB

Green Certification: REACH/RoHS

Protocols: 802.11 b/g/n (802.11n up to 150 Mbps) A-MPDU and A-MSDU aggregation and 0.4 μs guard interval support

Frequency range: 2.4 GHz ~ 2.5 GHz

Protocols: Bluetooth v4.2 BR/EDR and BLE specification

Radio: NZIF receiver with –97 dBm sensitivity Class-1, class-2 and class-3 transmitter AFH

Audio: CVSD and SBC

Module interfaces: SD card, UART, SPI, SDIO, I2C, LED PWM, Motor,PWM, I2S, IR, pulse counter, GPIO, capacitive touch sensor, ADC, DAC

On-chip sensor: Hall sensor

Integrated crystal: 40 MHz crystal

Integrated SPI flash: 4 MB

Operating voltage/Power supply: 2.7 V ~ 3.6 V

Operating current Average: 80 mA

Minimum current delivered by power supply: 500 mA

Recommended operating temperature range 2: –40 °C ~ +85 °C
You may also interested in:-