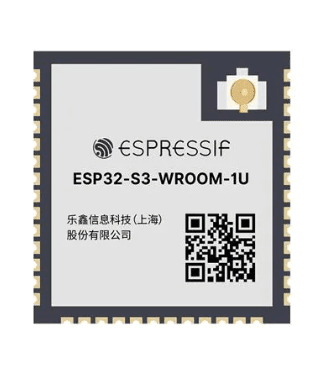 Espressif Systems ESP32-S3-WROOM-1U-N16R8 WI-2959-D
ESP32-S3-WROOM-1 and ESP32-S3-WROOM-1U are two powerful, generic Wi-Fi + Bluetooth LE MCU modules that are built around the ESP32-S3 series of SoCs. On top of a rich set of peripherals, the acceleration for neural network computing and signal processing workloads provided by the SoC make the modules an ideal choice for a wide variety of application scenarios related to AI and Artificial Intelligence of Things (AIoT), such as wake word detection, speech commands recognition, face detection and recognition, smart home, smart appliances, smart control panel, smart speaker, etc. ESP32-S3-WROOM-1 comes with a PCB antenna. ESP32-S3-WROOM-1U comes with an external antenna connector.
Get the high qualityESP32-S3-WROOM-1U-N16R8 WIFI Module at the best price in India.
ESP32-S3 series of SoCs embedded, Xtensa dual-core 32-bit LX7 microprocessor, up to 240 MHz

384 KB ROM

512 KB SRAM

16 KB SRAM in RTC

Up to 8 MB PSRAM
802.11 b/g/n

Bit rate: 802.11n up to 150 Mbps

A-MPDU and A-MSDU aggregation

0.4 μs guard interval support

Center frequency range of operating channel: 2412 ~ 2484 MHz
Bluetooth LE: Bluetooth 5, Bluetooth mesh

2 Mbps PHY

Long range mode

Advertising extensions

Multiple advertisement sets
You may also interested:-