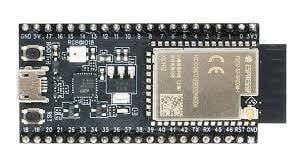 Espressif Systems ESP32-S2-Saola-1MI-WI-1513-D
ESP32-S2

general-purpose development board, based on ESP32-S2-WROOM-I, with 4 MB flash and pin header.

ESP32-S2-Saola-1MI

is a small-sized ESP32-S2 based development board produced by Espressif. Most of the I/O pins are broken out to the pin headers on both sides for easy interfacing. Developers can either connect peripherals with jumper wires or mount ESP32- S2-Saola-1 on a breadboard.
Get the high-quality
ESP32-S2-Saola-1MI
WIFI Development Board
at the best price in India.
ESP32-S2-Saola-1MI Features:-
Wi-Fi :
EEE 802.11 b/g/n-compliant

Supports 20 MHz, 40 MHz bandwidth in 2.4 GHz band

Single-band 1T1R mode with data rate up to 150 Mbps

WMM

TX/RX A-MPDU, RX A-MSDU

Immediate Block ACK

Fragmentation and defragmentation


CPU and Memory :
Xtensa® single-core 32-bit LX7 microprocessor, up to 240 MHz

128 KB ROM

320 KB SRAM
Advanced Peripheral Interfaces :
43 × programmable GPIOs

2 × 13-bit SAR ADCs, up to 20 channels

2 × 8-bit DAC

14 × touch sensing IOs

4 × SPI

1 × I2S

2 × I2C

2 × UART

RMT (TX/RX)

LED PWM controller, up to 8 channels