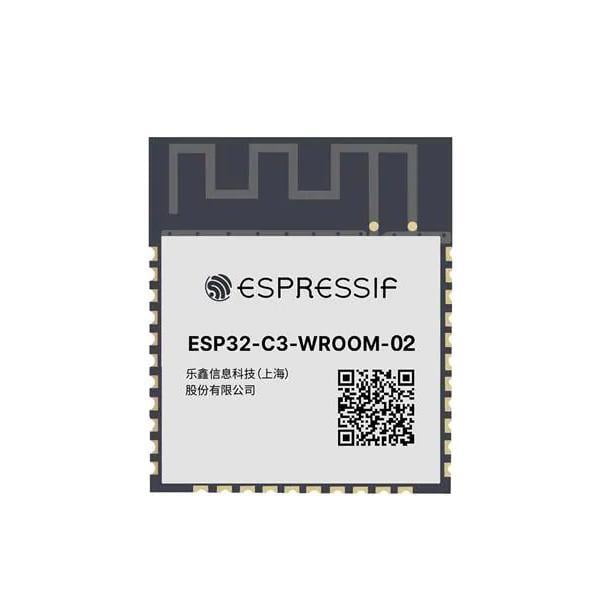 Espressif Systems ESP32-C3-Wroom-o2-N4- WI-2404-D
Visible Manufacture Name
ESP32-C3-WROOM-02-N4
Visible Manufacturer's code
ESP32-C3-WROOM-02-N4
ESP32-C3-WROOM-02 is a general-purpose Wi-Fi and Bluetooth LE module. This module features a rich set of peripherals and high performance, which makes it an ideal choice for smart home, industrial automation, health care, consumer electronics, etc. The module comes in two versions: • 85 °C version • 105 °C version The two versions both come with an on-board PCB antenna and a 4 MB external SPI flash. The information in this datasheet is applicable to both versions.


Get the high-quality ESP32-C3-Wroom-o2-N4 WIFI Module at the best price in India.
ESP32-C3 integrates a rich set of peripherals, ranging from UART, I2C, I2S, remote control peripheral, LED PWM controller, general DMA controller, TWAI ® controller, temperature sensor, ADC, and up to 22 GPIOs. It also includes SPI, Dual SPI and Quad SPI interfaces.

ESP32-C3-Wroom-o2
Features:-
ESP32-C3 embedded, 32-bit RISC-V single-core processor, up to 160 MHz


384 KB ROM • 400 KB SRAM • 8 KB SRAM in RTC
IEEE 802.11 b/g/n-compliant

1T1R mode with data rate up to 150 Mbps

A-MPDU and A-MSDU aggregation

0.4 µs guard interval


Operating frequency: 2412 ~ 2484 MHz
Bluetooth LE: Bluetooth 5, Bluetooth mesh

Speed: 125 Kbps, 500 Kbps, 1 Mbps, 2 Mbps

Advertising extensions


Multiple advertisement sets

Channel selection algorithm #2
Interfaces: GPIO, SPI, UART, I2C, I2S, remote control peripheral, LED PWM controller, USB 1.1, general DMA controller, TWAI controller (compatible with ISO 11898-1), temperature sensor
40 MHz crystal oscillator • 4 MB SPI flash • Operating voltage/Power supply: 3.0~ 3.6 V
85 °C version module: –40~ 85 °C

105 °C version module: –40~ 105 °C
You may also interested in:-