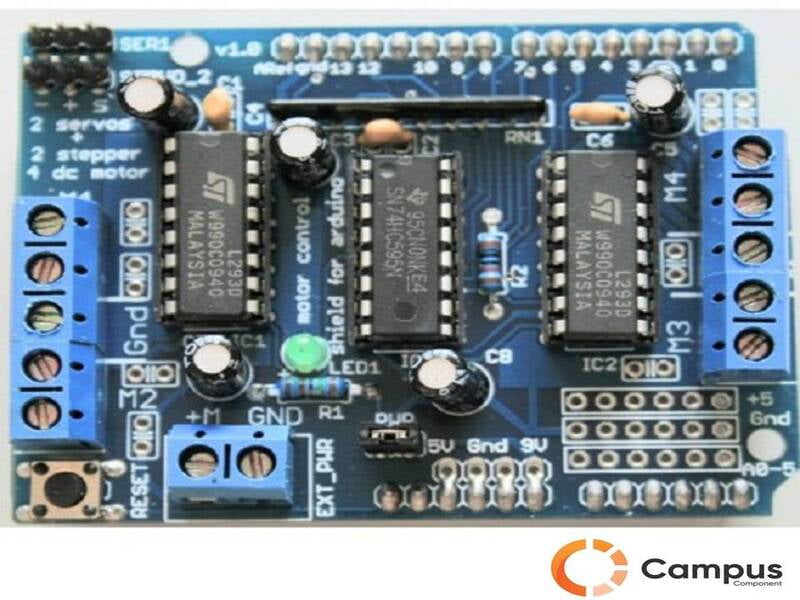 DC Motor/Stepper/Servo Shield for Arduino-AR-140-D
Non-returnable
Visible Manufacture Name
Generic
Visible Manufacturer's code
DC Motor/Stepper/Servo Shield for Arduino
This Arduino compatible motor Driver shield is a full-featured products that it can be used to drive 4 DC motors or two 4-wire stepper and two 5V hobby servo. It drive the DC motor and stepper with the L293D, and it drive the servo with Arduinos pin9 and pin10.
Motor shield for Arduino for driving DC motor, servo motor, stepper motor 2 connections for servo motor. 4 H-Bridges: L293D chipset provides 0. 6A per bridge (1. 2A peak) with thermal shutdown protection, internal kickback protection diodes. Can run motors on 4. 5VDC to 25VDC. Up to 4 bi-directional DC motors with individual 8-bit speed selection (so, about 0. 5 percent resolution) up to 2 stepper motors (unipolar or bipolar) with single coil, double coil or interleaved stepping.
Get the high-quality
DC Motor/Stepper/Servo Shield for Arduino
at the best price in India.
DC Motor Shield for Arduino Features:-
2 x L293D Motor Control Chips

Reduced control pins needed through 8-stage serial shift registers

Drive part of the operating current Io: 1.2A (0.6A per bridge)

External power connection via a screw-terminal block

Screw-Terminal blocks for connection to motors

Total of 4 H-Bridges for controlling 4 DC motors or 2 Stepper motors

2 x Server ports for controlling RC Hobby Servos

The logic control voltage Vss: 4.5~5.5V

Motor Supply Voltage: 4.5 ~ 12V
To know more about all latest Products of Raspberry PI along with its Accessories you can visit at
www.campuscomponent.com
You may also interested in:-