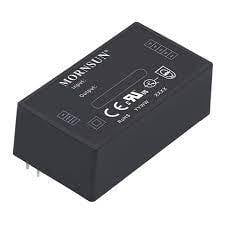 LD30-23B12R2 AC-DC Converter - PO-2657-D
Visible Manufacture Name
MORNSUN GUANGZHOU SCIENCE & TECHNOLOGY CO., LTD.
Visible Manufacturer's code
LD30-23B12R2
LD30-23BxxR2 series AC-DC converters is one of Mornsun's new generation compact size power converter. It features wide AC input and at the same time accepts DC input voltage, low power consumption, high efficiency, high reliability, reinforced isolation. It offers good EMC performance compliant to IEC/EN61000-4 and CISPR32/EN55032 and meets IEC/EN/UL62368/EN60335/EN61558 standards. The converters are widely used in industrial, power, home appliances, instrumentation, communication and civil applications.
Input voltage range: 85 - 305VAC and 120 - 430VDC (48V output) and 100 - 430VDC (others)

Operating ambient temperature range: -40℃ to +85℃

Up to 90% efficiency

No-load power consumption as low as 0.1W

5000m altitude application

EMI performance meets CISPR32/EN55032 CLASS B, EN55014

Meets surge ±2KV without additional circuits

Over-voltage category OVCⅢ (meet

EN61558-1)