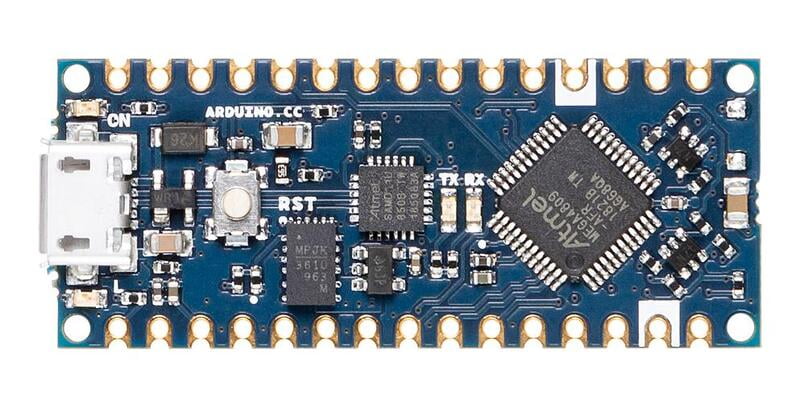 Arduino Nano Compatible-AR-848-D
Non-returnable
Arduino Nano Compatible is a small, complete, and breadboard-friendly board based on the ATmega328 (Arduino Nano 3.x). It has more or less the same functionality of the Arduino Duemilanove, but in a different package. It lacks only a DC power jack, and works with a Mini-B USB cable instead of a standard one.
The board can be powered via the mini-USB connection, 6-12V unregulated external power supply (pin 30), or 5V regulated external power supply (pin 27). The power source is automatically selected to the highest voltage source.The size of board is only 43 mm x 18 mm, it comes with 6 PWM I/O from the total of 14 digitals I/O, 8 analog inputs, 16Mhz clock speed and 32kB of flash memory. It can be programmed directly from the Arduino IDE, using the USB mini connection.
Get the high-quality Arduino Nano Compatible at the best price in India.
Arduino Nano Compatible Features:-
Microcontroller: Atmel ATmega328

Operating Voltage (logic level): 5 V

Input Voltage (recommended): 7-12 V

Input Voltage (limits): 6-20 V

Digital I/O Pins: 14 (of which 6 provide PWM output)

Analog Input Pins: 8

DC Current per I/O Pin: 40 mA

Flash Memory: 32 KB of which 2 KB used by bootloader

SRAM: 2 KB

EEPROM:1 KB

Clock Speed: 16 MHz
Arduino Nano Compatible Specifications:-
Analog Input Pins: 8 Pins

Dc Current Per I O Pin: 40mA

Eeprom: 1KB

Flash Memory: 32 KB of which 2 KB used by bootloader

Input Voltage Limit: 6-20 V

Microcontroller: Atmel ATmega328
You may also interested in:-