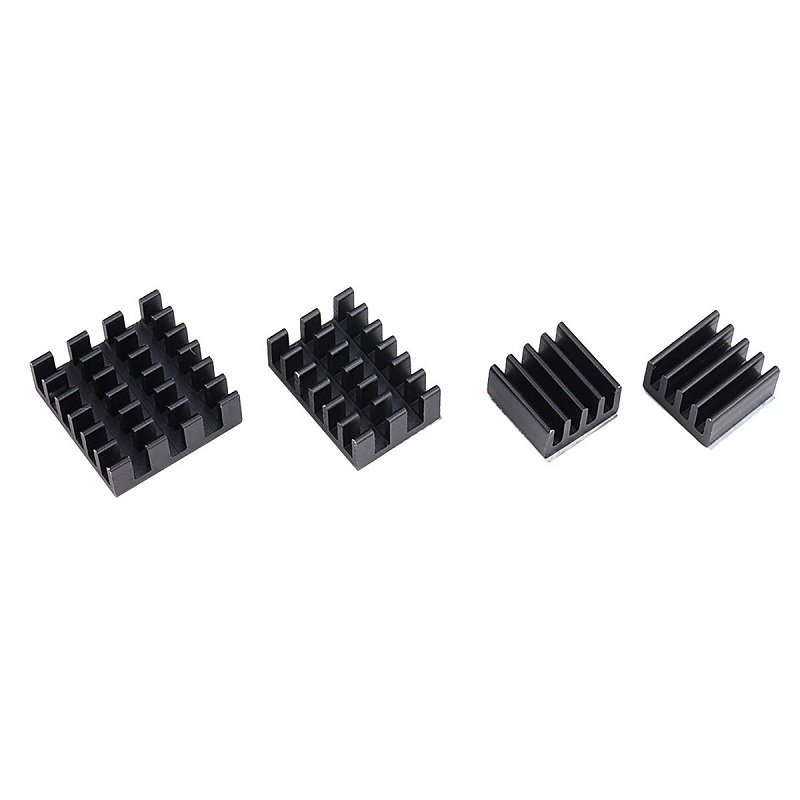 Aluminum Heatsink Kit for Raspberry Pi-RA-849-D
Non-returnable
Efficiently keep your Raspberry Pi cool with Micro Connectors' Aluminum Heatsink Kit. Pre-applied adhesive thermal tape on the heatsinks guarantee convenience and stability when your Pi is overclocking. Keep your single boards cool with our aluminum heatsinks.
Get the high-quality Raspberry Pi Aluminum Heatsink Kit at the best price in India.
Comparing to other heat sinks, it has been attached with thermal conductive adhesive tape, allowing the Raspberry Pi to cool down more efficiently. Besides, the installation is simple, what you need to do is to remove the heatsink protection and stick the heat sinks on the Raspberry Pi.


Aluminum Heatsink Kit for Raspberry Pi Features:-
• Compatible with:
1. Raspberry Pi 4 Model B o Raspberry Pi 3 Model B/B+
2. Raspberry Pi 2 Model B
3. Pi B+
4. Other single boards
• Pre-applied thermal tape on heatsink
Raspberry PI Cooling kit Specifications:-
Size:
1. Black heat sink with adhesive (large): 40mm x 30mm / 1.57" x 1.18"
2. Black heat sink with adhesive (middle): 14.5mm x 10mm / 0.57" x 0.39"
3.Black heat sink with adhesive (small): 9mm x 9mm / 0.35" x 0.35"
To know more about all latest Products of Raspberry PI along with its Accessories you can visit at
www.campuscomponent.com