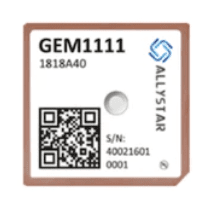 Allystar GEM1111 - WI-3182-D
GEM1111 is a high-performance L1 GNSS positioning module with antenna built-in, which is developed on the base of the state-of-the-art Allystar Cynosure III Lite architecture. It supports global civil navigation systems, including GPS, BDS, GLONASS, Galileo, and QZSS. Featured with SAW and LNA, GEM1111 achieves high positioning accuracy and short TTFF, especially in a rough urban environment. It supports antenna supervisor and auto-switching between the built-in antenna and the external antenna.
Get the high-quality Allystar GEM1111 GPS Module at the best price in India.
Supports GPS, BDS, Galileo, GLONASS, and QZSS systems Built-in LNA & SAW for better sensitivity

Supports A-GNSS

Supports geo-fence function

Ultra-low power consumption around 13 mA in tracking mode

Supports antenna supervision

Supports auto-switching between the built-in antenna and the external antenna
Attachment:-