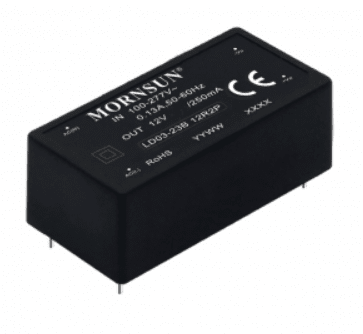 AC-DC Converter LD03-23B05R2P - PO-3181-D
LD03-23BxxR2 series AC-DC converters is one of Mornsun's compact size power converter. It features ultra-wide AC input and at the same time accepts DC input voltage, low power consumption, high efficiency, high reliability, reinforced isolation. It offers good EMC performance compliant to IEC/EN61000-4 and CISPR32/EN55032 and meets IEC/EN/UL62368/EN60335/EN61558 standards. The converters are widely used in industrial, power, home appliances, instrumentation, communication and civil applications.
Get the high-quality AC-DC Converter LD03-23B05R2P at the best price in India.
AC-DC Converter LD03-23B05R2P Specifications:-
Ultra-wide 85 - 305VAC and 100 - 430VDCinput voltage range

1 × 1 inch compact size

Operating ambient temperature range: -40℃to+85℃

Up to 78% efficiency

No-load power consumption 0.1W

5000m altitude application

Plastic case meets UL94V-0 flammability

EMI performance meets CISPR32/EN55032CLASSB, Report CB RoHS EN55014



You may also interested in:-