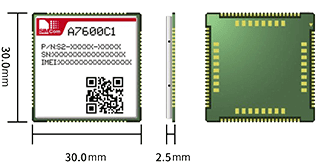 SIMCOM A7600C1-C1SE (CAT 1) - WI-1476-D
A7600C1 series ( including A7600C1-SE ) are the LTE Cat 1 module which supports wireless communication modes of LTE-TDD/LTE-FDD/GSM*/ GPRS*/EDGE*. It supports maximum 10Mbps downlink rate and 5Mbps uplink rate. A7600C1 adopts LCC+LGA form factor and is compatible with SIM5320/SIM5360 series(UMTS/HSPA+ modules), and SIM7600/SIM7600-H series(LTE modules), which enables smooth migration from 3G products to LTE products, and greatly facilitates more compatible product design for the customer needs.
Get the high-quality A7600C1-C1SE (CAT 1) Module at the best price in India.
A7600C1 supports multiple built-in network protocols, supports drivers for main operation systems (USB driver for Windows, Linux and Android etc.) and software function. Meanwhile A7600C1 integrates main industrial standard interfaces, with powerful expansibility, including abundant interfaces such as UART, USB, I2C, GPIO, which is suitable for main IOT applications such as telematics, surveillance devices, POS, industrial routers, and remote diagnostics etc.
The A7600C1-C1SE is Multi-Band LTE-TDD/LTE-FDD/GSM/GPRS/EDGE module solution in a SMT type which supports LTE CAT1 up to 10Mbps data transfer. A7600C1 has strong extension capability with rich interfaces including UART,I2C,USB2.0, GPIO etc. The module provides much flexibility and ease of integration for customer's application. The package of A7600C-C1SE is LCC+LGA.
A7600C1-C1SE (CAT 1) Features:-

Power supply VBAT: 3.4V ~4.2V,Recommended VBAT : 3.8V
Power consumption Current consumption in sleep mode : <5mA
TX power GSM/GPRS power level :
GSM850/EGSM900: 4 (2W)

DCS1800/PCS1900: 1 (1W)
EDGE power level :
GSM850/EGSM900: E2 (0.5W)

DCS1800/PCS1900: E1 (0.4W)
Antenna interface :

UMTS/LTE Diversity antenna interface

Short Message (SMS) :

MT,MO, CB, Text , PDU mode

Short Message(SMS)storage device: USIM Card, CB does not support saving in SIM Card

Support CS domain and PS domain SMS
Audio feature :
PCM Digital Audio interface
UART interface :
Full function serial port :-
Baud rate support from 9600bps to 921600bps

AT command and data can be sent through serial port

Support RTS/CTS Hardware flow control

Support serial port multiplexing function conforming to GSM 07.10 protocol
Debug serial port :-
You may also interested in :-