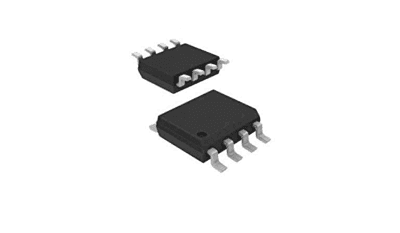 A7425M8R- DC DC converter
Non-returnable
A7425

is a wide input voltage, high efficiency current mode Synchronous step-down DC/DC converter.

A7425

provides up to 2.5A output current at 500kHz switching frequency.

A7425

integrates a 130mΩ high side and an 80mΩ low side MOSFET to achieve high conversion efficiency up to 96%. The current mode control architecture supports fast transient response and simple compensation circuit. Protection features include cycle-by-cycle current limit, thermal shutdown, and short circuit protection.
Get the high-

quality
A7425M8R- DC DC converter at
the best price in India.
A7425M8R- DC DC converter Features:-
Up to 40V Input Surge Voltage

Continuous Operating Input Voltage up to 36V

Up to 2.5A Output Current

500kHz Switching Frequency

Up to 96% Efficiency

Stable with Low-ESR Ceramic Output Capacitors

Resistor Programmable High-Side MOSFET Peak Current Limit from 1.0A to 3.5A

±2% Feedback Voltage Accuracy

Power Saving Mode reduces the quiescent current to 0.9mA

Advanced Feature Set Integrated Soft-Start of Thermal Shutdown Cycle-by-Cycle Current Limit protection

Available in SOP8 package
You may also interested in:-