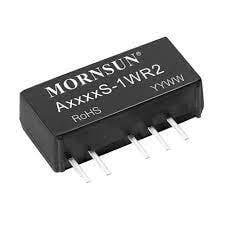 DC-DC Converter A2412S-1WR2 - PO-1999-D
Visible Manufacture Name
MORNSUN POWER SUPPLY
Visible Manufacturer's code
A2412S-1WR2
A_S-1WR2 & B_LS-1WR2 series is designed for use in distributed power supply systems and especially suitable in applications such as pure digital circuits, low frequency analog circuits, relay-driven circuits and data switching circuits, where:
1. The voltage of the input power supply is relatively stable with a variation of ±10%Vin or less.
2. An input to output isolation voltage of up to 1500VDC is necessary.
3. The requirement for a tight line and load regulation is not as strict.
Get the high-quality A2412S DC-DC Converter at the best price in India.
A2412S DC-DC Converter Features:-

High power density

High efficiency of up to 80%

Operating ambient temperature range: -40℃ to +105℃

Ultra compact SIP package

Industry standard pin-out

I/O isolation test voltage 1.5k VDC

UL60950/EN60950 approved

Meets EN62368