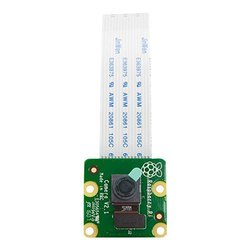 8MP NoIR Camera for Raspberry Pi-RA-982-D
Non-returnable
The

NoIR Camera Module

v2 (Pi NoIR) replaced the original PiNoIR Camera Module in April 2016. The v2 Pi NoIR has a Sony IMX219 8-megapixel sensor (compared to the 5-megapixel OmniVision OV5647 sensor of the original camera). This means that pictures you take by daylight will look decidedly curious, but it gives you the ability to see in the dark with infrared lighting.


Get the high-quality 8MP NoIR Camera for Raspberry Pi at the best price in India.
The board itself is tiny, at around 25mm x 23mm x 9mm. It also weighs just over 3g, making it perfect for mobile or other applications where size and weight are important. It connects to Raspberry Pi by way of a short ribbon cable. The high quality Sony sensor itself has a native resolution of 8 megapixel, and has a fixed focus lens on-board. In terms of still images, the camera is capable of 3280 x 2464 pixel static images, and also supports 1080p30, 720p60 and 640x480p90 video. The NoIR Camera has No InfraRed (NoIR) filter on the lens which makes it perfect for doing Infrared photography and taking pictures in low light (twilight) environments.
8MP NoIR Camera for Raspberry Pi Features:-
8 megapixel camera capable of taking infrared photographs of 3280 x 2464 pixels

Capture video at 1080p30, 720p60 and 640x480p90 resolutions

All software is supported within the latest version of Raspbian Operating System

Applications: Infrared photography, low light photography, monitoring plant growth, CCTV security camera
8MP NoIR Camera for Raspberry Pi Applications:-
Infrared photography

Low light photography

Monitoring plant growth

CCTV security camera

Infrared photography

Low light photography

Monitoring plant growth

CCTV security camera
To know more about all latest Products of Raspberry PI along with its Accessories you can visit at
www.campuscomponent.com