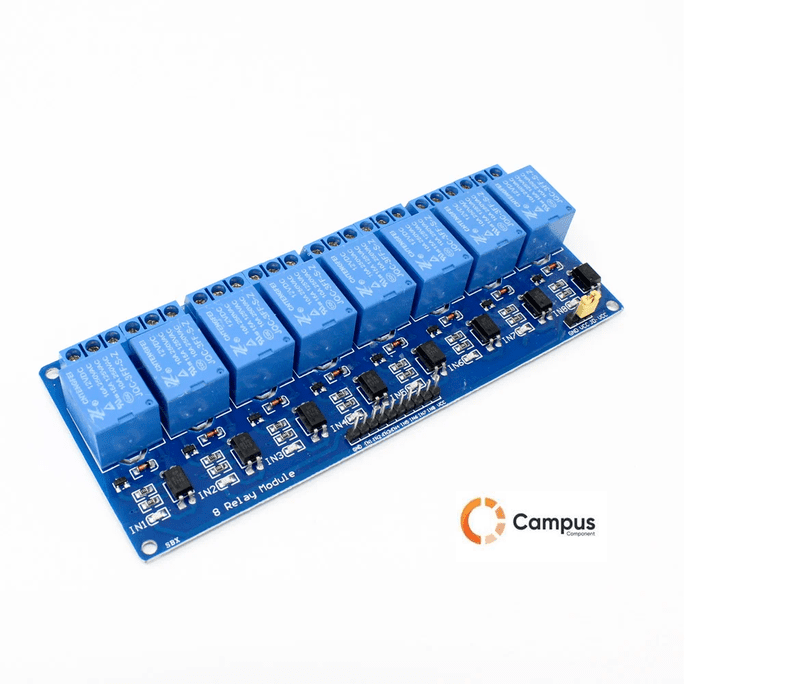 8 Channel Relay Module with light coupling 12V-AR-834-D
Non-returnable
SPQ:,MOQ:,Product Package:
This 8 Channel Relay Module (with light coupling) 12V module meet the safety standard as control areas and load area have the isolation groove. Optical coupling isolation module. The triggering of 8 Road/Channel Relay Module is reliable, more stable. The double FR–4 circuit board design , high-end SMT process. It has power and relay operation instructions. Relays terminals (C, NC, NO) are accessible through screw terminals which makes wiring up the board very easy. The inputs of the 8 Channel 12V Relay Module are isolated to protect any delicate control circuitry.
Get the high-quality Relay- Sugar Cube- 05V/7A at the best price in India.

8 Channel Relay Module with light coupling 12V Features:-
8 Channel Relay Module

c

an control both AC and DC appliances such as Solenoids, Motors, lights, fans, etc

High-quality screw terminals (Terminal Block) provided (C, NC, NO) for quick and easy connection

Freewheeling diode to protect your microcontroller

Input Signal Pin connected to Burg stick for easy accessibility

LED Status indicators to indicate the relay ON/OFF status

Mounting holes provided

Signal input with a high-level signal, the common and often start conduction;

The relay can directly control all kinds of equipment and load;

One often opened a normally closed contact;

Blue KF301 terminal line more convenient.

8 Channel Relay Module

is also able to control various appliances and other types of equipment with a large current.

Red working status indicator lights are conducive to the safe use. Widely used for all MCU control, industrial sector, PLC control, smart home control.
You may also interested in:-