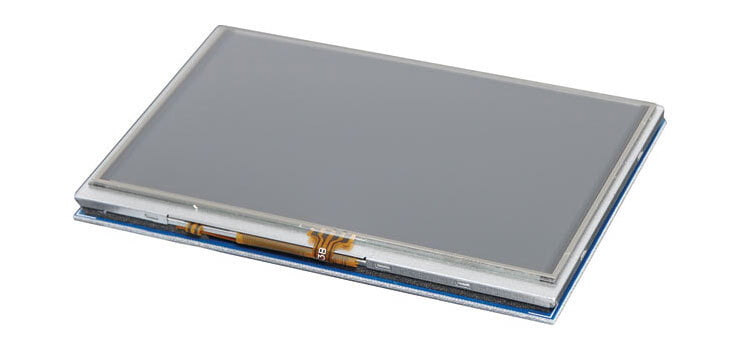 5 inch Touch Screen LCD for Raspberry Pi with HDMI Interface-RA-74-D
Non-returnable
This 5 inch Touch Screen LCD enhances the UI experience in any project. It supports various systems such as Raspberry Pi, Banana Pi, Banana Pro, BeagleBone Black etc. The built in HDMI interface enables the display to work as computer monitor just like any other HDMI screen.

Get the high-quality 5 inch Touch Screen LCD for Raspberry Pi at the best price in India.
With the special design power circuit for this display, it requires less than 150mA current to get it running with perfect performance. When you do not need the touch screen function, all you need is to plug a HDMI line to get it work. We have successfully run the tests on PC, laptop, Raspberry Pi, Beaglebone Black, Udoo, Compute stick, SLR camera.

5 inch Touch Screen LCD for Raspberry Pi Features:-

800×480 High resolution, resistive touch panel

Supports Raspberry Pi, comes with Raspbian driver (works with your Raspbian directly), and Ubuntu image

Supports Banana Pi / Banana Pro, comes with Lubuntu, Raspbian images

Supports BB Black, comes with Angstrom image

HDMI interface for displaying, USB interface for touch control

Back light control to lower power consumption

Compatible with Raspberry Pi B, Raspberry Pi B+, Raspberry Pi 2 & Raspberry Pi 3
5 inch Touch Screen LCD for Raspberry Pi Parameters :-

Size : 5.0(inch)
SKU : 6320629805
Resolution : 800× 480(dots)
Touch :

4-wire resistive touch
Dimensions :

121.11*77.93(mm)

Raspberry Pi 5 inch touch screen package include:-

1x 5inch HDMI LCD (B)

1x HDMI cable

1x Touch pen

1x USB type A plug to micro B plug cable

1x RPi LCD screws pack (4pcs)

1x DVD
Raspberry 5 inch display Hardware Description:-
USB interface :

Get 5V Power from USB ,If 4-13*2 Pin Socket has been connected, that this USB interface can be No Connect.
HDMI interface :

For HDMI transmission.
Backlight Power switch :

Controls the backlight turned on and off to save power.
13*2 Pin Socket :

Get 5V Power from raspberry Pi to LCD, at the same time transfer touch signal back to raspberry Pi.
extended interface :

extended The 4-13*2 Pin Socket signal Pin-to-Pin.
Explore all latest Official Updates and New Products and Accessories range from Raspberry Pi at
www.campuscomponent.com
You may also interested in:-