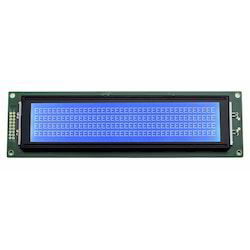 40x4(S) COB Blue Backlight-SDCB4004-02 - LC-1820-D
SDCB4004-01 is 40x4 Character LCD display module which is built in with AIP31066 controller IC; its default interface is 6800 4/8-bit parallel and 5V or 3.3V power supply option. This 40x4 LCD display. SDCB4004-01 is available for no backlight or with LED backlight options. This LCD display 40x4 is available in various LCD panel colors including gray, yellow/green and blue LCD options. This display LCD 40x4 module can be operating at temperatures from -20℃ to +70℃; its storage temperatures range from -30℃ to +80℃, its built in character set supports English/Japanese, English/West European, English/Scandinavian European, or English/Cyrillic (Russian) options.
Get the high-quality
40x4(S) COB Blue Backlight-SDCB4004
at the best price in India.
40x4(S) COB Blue Backlight Features:-
LCD Type: STN- Yellow Green Transmissive

Operating Voltage: Vdd- 5V

Viewing Direction: 6 Oclock

Drive Method: 1/16 Duty, 1/5 Bias

Operating Temp: -20C to +70C

Storage Temp: -30C to +80C

Connector Tape: Zebra

Driver IC: AIP31066

Backlight: Yellow Green
40x4(S) COB Blue Backlight Specifications:-
Dimension:- 190.0 x 54.0 x 15.0

Lighting Type:- LED

Active Screen Dimensions:- 147.0 x 43.1

Character Size:- 2.78 x 4.89

Viewing Angle:- 6 o' Clock

Weight:- 50g

Power Consumption:- 5V

Operating Temperature:- -20 to 70 Degree C

Storage Temperature:- -30 to 80 Degree C

Color:- Green blue
You may also interested in:-