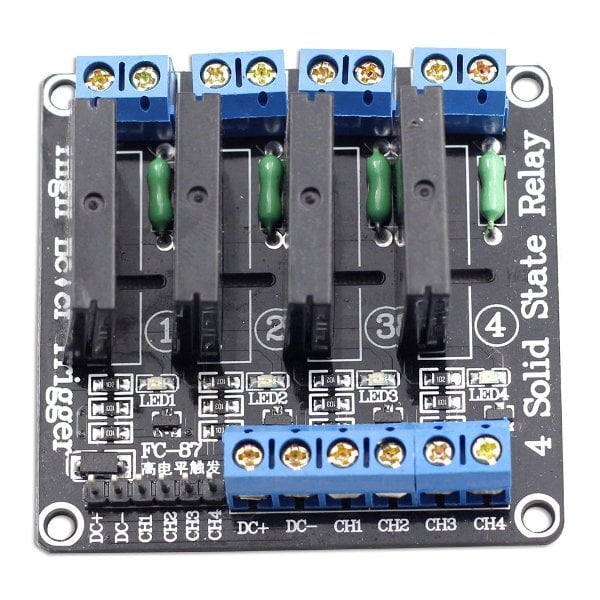 4 Channel Solid State Relay-AR-941-D
Non-returnable
SPQ:,MOQ:,Product Package:
4-Channel Solid-State Relay is somewhat similar to that of a mechanical relay & the difference is that, there is no moving contact in a Solid-State Relay. It finds its application in AC circuits as a TRIAC has got only limited applications in DC. Solid state relays do have several advantages over mechanical relays. One such advantage is that they can be switched by a much lower voltage and at a much lower current than most mechanical relays. Also, because there's no moving contacts, solid state relays can be switched much faster and for much longer periods without wearing out.
Get the high-quality 4 Channel Solid State Relay at the best price in India.
4 Channel Solid State Relay Features:-

4-Channel Solid-State Relay

Rated output load: 100V ~ 240V AC (50Hz/ 60Hz) 2A per channel

Rated input voltage: 5V

Triggered at High level

Separate LEDs showing status of each Solid-State Relay

Input control signal:

Low Signal (Solid-State Relay OFF / OPEN)

High Signal (Solid-State Relay ON / CLOSED)

Screw terminals in AC Side for better & secure connection

Choice of connectivity in DC side between Screw terminals & male headers
You may also interested in:-