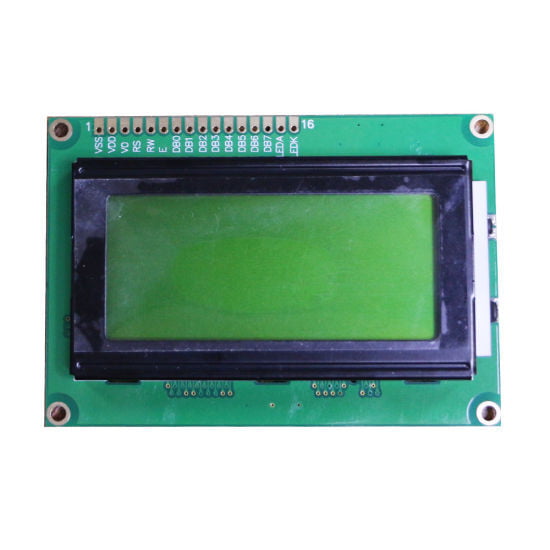 16X4 (S) COB yellow green Backlight -LC-606-D
Non-returnable
Visible Manufacture Name
SINDA
Visible Manufacturer's code
SDCB1604-05 Y/G
Our Character LCD Module 16*4 has various different models on shelf and accept custom develop to meet your special requirement. We can develop different interface like I2C, Serial, and we also have different font available. Character 16x4 LCD Module is a dot matrix liquid crystal display module specially used for displaying letters, numbers, symbols, etc. It can display 4 lines with 16 characters in each line. Divided into 4-bit and 8-bit data transmission methods, it provides display data buffer DDRAM, character generator CGROM and character generator CGRAM.
Get the high-quality
16X4 (S) COB yellow green Backlight
at the best price in India.
You can use CGRAM to store your own font data of up to 8 5X8 dot-matrix graphic characters. Provides rich command settings: clear display; cursor return to origin; display on/off; cursor on/off; display character flashes; cursor shift; display shift, etc.

The LCD colors of the liquid crystal display module (LCM) are yellow-green, blue, and gray, which can be selected by customers. The backlight colors of the LCD module are yellow-green, gray, emerald green, and blue, which can be selected by customers. Working temperature -20

~+70℃, storage temperature -30~+80℃.

The STN type liquid crystal display has a simpler process than the TFT type, a higher yield, and a relatively cheap price. It is oriented to products with a strong contrast and a fast response time for picture conversion, so it is mostly used in information processing equipment.
16X4 (S) COB yellow green Backlight Features:-
LCD Type: STN- Positive Transflective

Duty: 1/16 and Bias 1/5

Viewing Angle: 6 O'clock

Operating Temperature: -20 to + 70C

Storage Temp: -30 to +80c

Driver IC: ST7066U

Drive Power: Vdd: 5V
16X4 (S) COB yellow green Backlight
Specifications
:-
Display Format:- 16 × 4

Model No:- SDCB1604-05

Outline Dimension(mm):- 70.60 × 76.00 × 9.00

Viewing Area(mm):- 60.00 × 31.40

Color available:- Blue, Yellow-green, Grey

IC:- AIP31066 or Eqv.

IC Package:- COB

Interface:- Parallel
You may also interested in:-