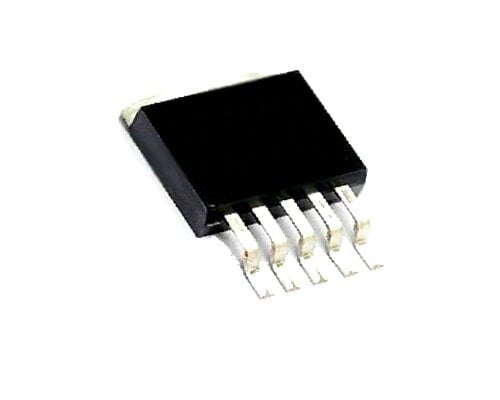 LM2596R-IC-287-D
Non-returnable
SPQ:1,MOQ:1,Product Package:
Visible Manufacture Name
HTC
Visible Manufacturer's code
LM2596R-5.0
The LM2596 regulator is monolithic integrated circuit ideally suited for easy and convenient design of a step−down switching regulator (buck converter). It is capable of driving a 3.0 A load with excellent line and load regulation. This device is available in adjustable output version and it is internally compensated to minimize the number of external components to simplify the power supply design. Since LM2596 converter is a switch−mode power supply, its efficiency is significantly higher in comparison with popular three−terminal linear regulators, especially with higher input voltages. The LM2596 operates at a switching frequency of 150 kHz thus allowing smaller sized filter components than what would be needed with lower frequency switching regulators. Available in a standard 5−lead TO−220 package with several different lead bend options, and D2PAK surface mount package.
Get the high-

quality
LM2596R Voltage Regulator at
the best price in India.
LM2596R Features Voltage Regulator:-
Adjustable Output Voltage Range 1.23 V − 37 V

Guaranteed 3.0 A Output Load Current

Wide Input Voltage Range up to 40 V

150 kHz Fixed Frequency Internal Oscillator

TTL Shutdown Capability

Low Power Standby Mode, typ 80 A

Thermal Shutdown and Current Limit Protection

Internal Loop Compensation

Moisture Sensitivity Level (MSL) Equals 1

Pb−Free Packages are Available
LM2596R Voltage Regulator Applications:-
Simple High−Efficiency Step−Down (Buck) Regulator

Efficient Pre−Regulator for Linear Regulators

On−Card Switching Regulators

Positive to Negative Converter (Buck−Boost)

Negative Step−Up Converters

Power Supply for Battery Chargers
You may also interested in:-